Suzuki strengthens customer satisfaction monitoring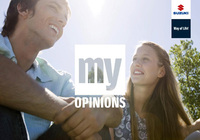 Suzuki has now gone live with 'My CSI', a new on-line programme to monitor customers' satisfaction with its 150 strong dealer network's sales and servicing performance.
Targeting improved brand loyalty and satisfaction levels, it is designed to make it easier for customers to provide feedback on their experiences and for the company to respond promptly to any important issues that are raised. Key objectives include raising the profile of CSI across the dealer network and providing dealers with real-time reporting on customer opinions.
Suzuki plans a gradual migration from its current paper-based system to a fully on-line process once it has established a comprehensive customer email database. Suzuki is working with its dealers on initiatives to help quickly gather email information.
Customers who have provided an email address will be invited to follow an internet link to access a new questionnaire with 10 appraisal questions, through which they can rate their sales or service experience. Those who respond below the "very good" level to any single question will be asked further questions to help better understand their concerns. This means satisfied customers can complete the survey with minimum fuss, improving response rates, while those who are unhappy for any reason have the chance to give extra, more detailed feedback.
Any customer who asks to be contacted by their dealer or Suzuki GB on a specific matter will trigger a "Hot Alert" email to the dealer concerned. Progress on these alerts will be monitored on Suzuki's dealer portal, with internal reminders sent until the issue is resolved. Concurrent with the launch of My CSI, Suzuki's dealer portal has been upgraded, making it easier for dealers to be more proactive in responding to customer feedback and improving their performance.
David Seward, Senior Director for Sales and Marketing said: "We believe My CSI will engage us more closely with our customers and help us understand and respond more quickly and effectively to any problems they might encounter. It is a user-friendly, cost-effective tool that will be central to ensuring we build brand loyalty and deliver the highest level of service all-round by identifying and implementing best practice solutions.
"The Hot Alerts function is a core element in what we are doing and will play a critical role in improving the quality of our service delivery."