Pro surfers select top 25 UK & Ireland surf spots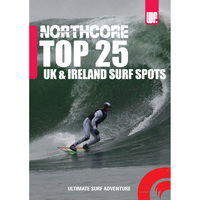 Two British surf companies have teamed up to produce a guide to the best surf breaks in the UK and Ireland.

Northcore Europe, which makes surfboards and accessories, partnered with action sports publisher Wavefinder to publish a brand new surf guide - Top 25 UK & Ireland Surf Spots - which is available now.

Matt Strathern of Northcore said: "The chances are that somewhere along the stunning and often wild UK and Irish coastlines there's a perfect glassy wave peeling right now. If you want to start your surfing adventure you won't go wrong chasing the waves detailed in this book.

"We're really proud of this new title. Working with such a respected publisher as Wavefinder is fantastic and they've helped bring together a great little book."

The 25 spots were selected by members of Northcore's surf team, including advice from big wave rider Richie Fitzgerald on his favourite waves in Ireland, and two-time European champion Grishka Roberts on his choice of English waves.

Wavefinder produced the book, providing detailed information on the list of must-ride waves, including their unique Surfer's Eye maps showing the location and optimum conditions for each surf spot.

The 56 page pocket-sized guide also features profiles of Northcore team riders including Lewis Clinton, Kathleen Spears and longboarder Ryan Hammond.

Nick Rink from Wavefinder said: "We had been looking for a quality UK surf company to work with on this project and Northcore fitted the bill perfectly.

"The company epitomises cold water surfing with their products and their philosophy and so this Top 25 guide around the chilly waters of the UK & Ireland works very well. Getting input from some of Northcore's pro riders also adds an extra dimension."

Northcore Top 25 UK & Ireland Surf Spots is available now from wave-finder.com priced £3.99.