Clarion and Nokia team up on connected car technology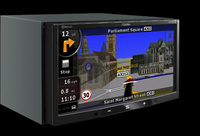 Clarion and Nokia have announced that they are collaborating on Terminal Mode, a technology that will enable a totally new way of mobile devices and car infotainment systems to seamlessly work together. Both companies say this collaboration will further boost the development of next-generation smart car infotainment systems.
Through this partnership Clarion aims to develop the smartphone interface that Nokia and Consumer Electronics for Automotive, CE4A are proposing as industry standard, as well as to build an application service business for in-car devices utilising the Ovi Store application service by Nokia.
Clarion is also targeting accelerated development and greater commercial dominance of in-car information systems for the Europe and North America markets where Nokia has a strong presence, as well as China and other emerging markets.
"By integrating the Terminal Mode technology into in-car information systems such as car navigation developed by Clarion, we will be able to bring to customers the vast array of applications and services available to smartphones on in-car devices. The integration of in-car devices with smartphones will provide better user experiences for consumers and lead to radical changes in in-car information systems," says Tatsuhiko Izumi, president of Clarion.
"Through a stronger collaboration with Nokia and NAVTEQ, which supplies map information for our car navigation systems in overseas markets, it will be possible to utilise smartphone functions and services for in-car information system functions and support services such as intelligent transport systems (ITS), advanced driver assistance systems (ADAS), and navigation coordination.
"Nokia believes that Terminal Mode is an ideal base for industry innovation, allowing existing and new kinds of services to be extended into the car," says Vesa Luiro, Automotive Director at Nokia. "We are already committed to collaboration with the automotive industry and this alliance with Clarion will further improve the user experience in the car and enable consumers to access their favourite internet services and smartphone applications, wherever they are."