Innovative connectivity navigation radio platform for Audi cars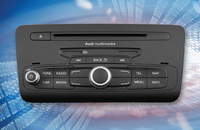 Delphi Automotive's Connectivity Navigation Radio (CNR) platform is allowing Audi to differentiate its vehicles with a new and innovative infotainment product. Offering the ability to easily adjust media centre capability to meet the unique needs of individual vehicle models, the flexible media centre design is based on Delphi's scalable hardware platform and was recently unveiled on the Audi A1.
Delphi's CNR platform addresses multiple market needs, including phase diversity dual-tuner reception and the capability of adding different digital tuner modules (e.g. digital audio broadcast/DAB) and different types of connectivity.
"The open, well-structured software architecture allows Audi to configure its vehicles' infotainment platforms with simple software upgrades and offer more than 20 variations of our new infotainment platform including radio concert with navigation," said Peter Steiner, head of Audi Infotainment Electrics/Electronics.
The scalable design also helps to differentiate vehicles while fulfilling today's and tomorrow's requirements for radio reception, user connectivity and navigation.
"The Delphi Connectivity Navigation Radio platform has made a new generation of feature-rich embedded infotainment systems available to vehicle manufacturers," said Wilhelm Steger, Delphi managing director, Infotainment & Driver Interface, Europe & South America. "Delphi's unique design provides Audi with a high-value product that can be adapted to provide functionality appropriate for a variety of vehicles. As Audi's tier 1 supplier, Delphi delivers innovation that provides the flexibility of individualized entertainment, information and communication."
Delphi's CNR supports navigation functionality with a high-resolution colour display and 2.5D graphics, and includes map data for East and West Europe on a single SD card. The connectivity functionality allows drivers to connect a portable device such as an iPod®, another music player or any data storage device to the vehicle's audio system. Using the world standard Bluetooth, the unit can be configured to allow hands-free calls or even stream music from the driver's mobile phone to the high-performance system.