Audi A1 begins to make its mark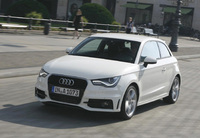 The long wait is over: starting tomorrow, the Audi A1 will be available to test drive at Audi Centres in Germany. Deliveries will simultaneously begin in Austria, Belgium, Luxembourg and Switzerland, followed by most other mainland European markets from mid-September. The UK will receive its first cars in November.
The A1 impresses with its progressive design, superb workmanship and state-of-the-art infotainment technologies. It offers a vast number of possibilities for customization and can be ordered in over 800 different exterior versions.
"Reports from our international dealers show us that interest in the A1 is exceeding our expectations considerably," commented Peter Schwarzenbauer, Member of the Board of Management for Marketing and Sales at AUDI AG. "We will therefore increase our production capacity by 20 percent."
Audi had previously expected average production volumes of 100,000 A1 units per year, primarily for the European market at first. However the new Audi will now also be launched in the Asia-Pacific region and in South America in early 2011. "And we are now also thinking about bringing this generation of the A1 to China," added Schwarzenbauer. A total of 50,000 units are scheduled to roll off the production line in Brussels by the end of 2010.
The Audi A1 will be launched with three appealing engine options: the 1.2 TFSI, the 1.4 TFSI and the 1.6 TDI. Each engine features direct injection, turbocharging and a start-stop system with braking energy recovery. The A1 is the only car in its segment to combine a start-stop system with an automatic transmission.
Even in advance of its market launch, the new Audi has caused quite a sensation with more than 150,000 prospective customers worldwide having registered to receive information about its market launch and the latest campaigns.
Audi has also received the renowned "red dot award" for its direct marketing campaign for the A1 introduction. At the heart of the cross-media campaign was the circulation of a magazine series, also available online, that focused on the new model. The A1 commercial has been broadcast on television this week featuring music from the new band Torpedo. The exclusive song, called "An Invention", was produced by A1 brand ambassador Justin Timberlake and can be downloaded for free at audi.de/a1.