Get cycling in Majorca this winter with Monarch.co.uk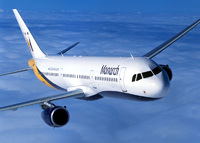 Leading leisure airline Monarch is helping cyclists get away for less by introducing a pre-booking service for the carriage of bicycles on its scheduled flights, perfect for some winter training in Majorca following the airline's recent announcement that it is to add new flights to the Balearic Island for the winter 2010/11 season.

Customers booking a Monarch scheduled flight via monarch.co.uk or via the airline's customer contact centre can now pre-order the carriage of bicycles for just £18.50 per one way flight*, offering a £5 saving against paying at the airport.

With year-round average temperatures of 21 degrees and a range of flat terrain, rolling hills, beautiful landscape and low volumes of traffic offering perfect road conditions, it's not surprising that Majorca is the destination of choice for European and American cycling pros to train during winter and early spring. For the winter 2010/11 season Monarch will operate three flights a week to Majorca from London Gatwick and Manchester airports - simply check out monarch.co.uk for more details.

Commenting on the change to the carriage of bicycles, Managing Director of Monarch Airlines, Tim Jeans said, "Monarch is committed to providing great customer care and service to all of its passengers and the option to pre-book the carriage of bicycles will be welcome news for cyclists. This will allow them to manage their costs when making their flight booking and provide peace of mind that their bike is booked to travel on the flight with them.

"As an airline flying to popular holiday destinations throughout Spain, Portugal, Cyprus, Turkey and Gibraltar, we carry many customers who are travelling for a cycling holiday and feel is it important to make their travel experience as seamless as possible. Majorca is a great destination for winter training and with the launch of our new flights to the island this winter I'm sure this will also be a popular choice for cyclists."

Monarch operates scheduled flights to a range of destinations throughout Mainland Spain, the Canary and Balearic Islands, Portugal, Cyprus, Gibraltar and Turkey with fares, including taxes, starting from just £46.50 one way (£76.99 return).

In addition to year-round low fares, Monarch also offers a unique range of tasty hot and cold meals that can be pre-booked or purchased onboard with prices from £3.00. To enable customers to select where in the cabin they sit and ensure that families and groups sit together, seats can be pre-booked at £7.50 per one-way flight, or from only £17.50, extra-legroom seats are available, which offer up to six inches of extra space. Passengers travelling on scheduled flights can also avoid the queues at the airport and take advantage of online check-in which is available between 18 days and 4.5 hours prior to departure.

In addition to flights, Monarch also now offers a huge range of great value holidays, accommodation options, car hire and travel insurance.

For further information or to book Monarch flights, Monarch Holidays or Monarch Hotels, visit: monarch.co.uk

* The weight limit for bicycles is 13 kilos with excess baggage charges applying for anything over that limit. The cost for the carriage of bicycles when paying at the airport is £23.50 per one way flight.