smart festival takes over the world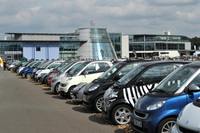 Over 4,000 enthusiasts and 1,420 smarts descended on Mercedes-Benz World, Weybridge, to make this year's smart festival the biggest and best-ever single-day gathering of smarts.
The event also saw a record-breaking number of people test drive the cutting-edge smart fortwo electric drive in one day. Over 370 people jumped at the exclusive opportunity to be amongst the first to sample the groundbreaking model that uses state-of-the-art lithium ion battery technology and which can be charged via a standard 13 amp socket.
Those who attended Saturday's fun-filled event, which coincided with the 10th anniversary of the arrival of right-hand drive smart models in the UK, enjoyed an unrivalled insight into the vibrant world of the iconic smart and even a special impromptu dance by members of the smart UK team.
The unassuming 40-strong dance troop came together and launched into their secret display at 1pm, surprising festival goers with a professionally choreographed routine to the legendary track 'Car Wash' by Rose Royce complete with big yellow sponges for effect. The performance had been planned for three months and footage about the day, including the dance, has been uploaded to the smart UK YouTube channel here.
Other amazing sights included the well-received premiere of the commemorative smart fortwo gb-10 edition ahead of the first examples being delivered later this month, the smart arrows formation driving team, smart driving games, and a display of models from the striking BRABUS tailor made collection.
As in previous years there were competitions for the 'Most Modified', 'Best Kept' and 'Best Dressed' smart, while the manufacturer added a trio of its own highly modified examples to the day's attractions. These consisted of the legendary smart roadster V6 biturbo, the 210bhp smart forfour SBR210 that was built for the 2006 Essen Motorshow and the Police ultimate 112 concept that had a tuned 112bhp, 1.0-litre engine and which was displayed at the same show a year later.
"The record attendance of this year's smart festival underlines the fact that even 10 years after its UK launch the smart continues to attract more and more people to its unique driving and ownership experience," said Gary Savage, Managing Director, Mercedes-Benz Cars.
"Reaction to the event was phenomenal and what was particularly pleasing was the overwhelmingly positive response from those who drove the smart fortwo electric drive, which reaffirmed the findings of our recent 'Plugged-in' study on the UK's perception to electric vehicles and proved that motorists were thrilled with the option of a stylish, fun-to-drive car with zero emissions."
The full Plugged-in report can be found at electricsmart.co.uk
The smart range is available through the Mercedes-Benz retail network.
For more information about smart log onto thesmart.co.uk. The smart social community website is destinationsmart.co.uk. To see photos and videos of the smart festival 2010 visit:
facebook.com/smartcarUK
twitter.com/smartfortwoUK
youtube.com/smartfortwoUK