MINI rocks sonoro - Limited edition Internet radio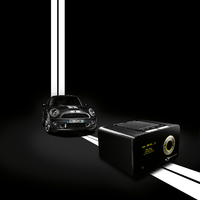 MINI has been working closely with German manufacturer of design audio products sonoro audio. The two brands synonymous with outstanding design and state-of-the-art technology enjoy massive popularity among the post-modern target group. The result of the cooperation is an Internet radio that combines urban chic with a boundless musical experience – a wonder of multi-functionality and a design hit in one. True to the MINI "Creative Use of Space" philosophy the radio packs a host of functions into one very small unit. Whether your favourite sound is New Orleans jazz, Jamaican reggae or Brazilian bossa nova, the "MINI rocks sonoro" limited edition of the "elements W" Internet radio brings original sounds from all over the world directly into your living room, bedroom, office or kitchen. The result is a feast of global music in every corner of your home. The unit also comes with four preset MINI SOUNDS Webradio channels.
Exceptional design
The unique design of the MINI rocks sonoro Internet radio makes it something of a collector's piece. The distinctive wood casing is finished in the brand new Eclipse Grey metallic exterior lacquer from MINI, complete with original MINI bonnet stripes. The acrylic front panel features controls in brushed aluminium and the golden, energy-saving OLED display is dimmable and easy to read in daylight or at night. The limited edition Internet radio is a must-have for all design-conscious MINI fans and trendsetters.
A peerless wonder of multi-functionality
The MINI rocks sonoro limited edition of the elements W Internet radio receives over 18,000 Webradio stations via WiFi or LAN. Users can search and select their favourite music easily by genre or country. The design radio also boasts a media player function to stream music libraries direct from a computer and can be connected via line out to an external audio system. The alarm clock, sleep and snooze functions, Radio Frequency remote control and eDock external iPod docking station with charging function are easy to use and open up exciting new dimensions in an audio lifestyle. The integrated digital equalizer, solid wood casing, bass reflex tube and 3-inch full range speaker ensure a powerful, well-rounded sound.
MINI SOUNDS: Webradio channels from MINI
For all fans of good music, MINI broadcasts on four new Webradio channels. MINI SPACE provides a prime selection of alternative tracks not common in the mainstream. MINI UNITED mixes chart-topping hits with some timeless classics thrown in. MINI INTERNATIONAL offers lounge music from around the world with chillaxing beats to transport you to a calmer place. And MINI CROSS satisfies the musical appetite of hard rock fans everywhere. The four channels come as presets in the MINI rocks sonoro limited edition of the elements W Internet radio.

For more information go to MINIspace.com/minisounds.