Enjoy an easy move to a new property in Ilkeston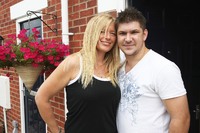 Andrea and John recommend Taylor Wimpey's easymover scheme after making a stress free move to the leading housebuilder's Briars Chase development of houses for sale in Ilkeston.

Setting up home together at Taylor Wimpey's Briars Chase development of new homes in Ilkeston has paid off in more ways than one for Andrea Lort and John Sherriff.

Not only did they get superb value for money with their brand new 'Denby' property in Derbyshire, the happy couple have also been able to banish any thoughts of time-consuming property chains, stressful renovation projects and expensive DIY.

Andrea (35) was considering extending her mortgage to pay for a new bathroom and kitchen at her previous house in Ilkeston – but has ended up with a brand new home needing no work whatsoever.

She was also able to sell her previous house with the minimum of fuss thanks to Taylor Wimpey's easymover scheme, through which the housebuilder finds a buyer for customers' current home in just a few weeks when they take their pick from a selection of property for sale in Ilkeston.

Two months on, Andrea is as thrilled to be living at Briars Chase as she was on the first day she and John (28) moved in.

Andrea says: "Everything about the move has been perfect, I still find it hard to believe how easy it all was – it's just been phenomenal.

"I got an excellent price for my old house, and the fact I didn't need to find a buyer for it myself was a real relief.

"Then, to have the estate agents' fees and removal costs covered by Taylor Wimpey was just brilliant."

The prospect of pricey DIY and renovations being lifted from Andrea's shoulders was also a major relief.

She says: "We now have a perfect home which doesn't need any work doing to it. It's decorated and finished to our tastes, and it lets a lot of light in, which is just what I wanted.

"It's funny to think I could have ended up extending my mortgage to do up my old home, rather than living here – the two scenarios just don't compare, we have so much more for our money here."

Briars Chase's excellent location, giving easy access to the A52 for Nottingham and Derby, and the M1 for links to the North and South, is another reason for celebration for Andrea, who is a business controller for Rolls-Royce in Derby, and John, a lift engineer at Logistics Design in Nottingham.

"The commute is really convenient for both of us," says Andrea.

"And with John working all over the country, to be so near to the M1 is perfect for him."

Taylor Wimpey also gets a big pat on the back from Andrea, who was so impressed with the whole process, she was moved to put pen to paper.

"For the first time in my life, I wrote a thank you letter," explained Andrea.

"It was to everyone at Taylor Wimpey, from Elaine the Sales Executive to the Site Manager at Briars Chase, and also the solicitors who made sure the process went so smoothly for us.

"I'd recommend Taylor Wimpey to anybody looking for a new home."

A choice of stylish homes is now on sale at Briars Chase, including the three-bedroom 'Denby' townhouse, priced from as little as £143,250, and the impressive four-bedroom properties from just £155,250.

Situated within easy reach of the centre of the thriving market town of Ilkeston, Briars Chase enjoys an excellent location within easy reach of Nottingham and Derby, with a good selection of restaurants, shops, pubs and the Scala cinema located nearby.

Briars Chase is also close to numerous infant, junior and secondary schools with Granby Junior School, Chaucer Junior, Infant and Nursery School, Bennerley School and Ilkeston Secondary School all less than a mile away.

Langley Mill railway station is under four miles away, providing regular services to Nottingham in just 20 minutes and Sheffield in 45 minutes.

The Briars Chase Sales Centre is open Thursday to Monday from 10.30am to 5.30pm, and is signposted off Heanor Road, Ilkeston.