Toyota set to bolster used car sales with FindsYouCars.com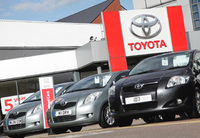 Toyota has signed up to online 'find engine' FindsYouCars.com to deliver its entire dealer network with genuine, qualified sales leads from buyers.
TGB opted to team up with FindsYouCars.com having experienced first-hand the number of demand-led, quality sales enquiries it generates. Its micro-subscription charge was also an attractive prospect, helping local Toyota dealers save on their used car marketing budgets, while also attracting new, serious car-buying customers.
Iain McCall, Vehicle Remarketing & Cost of Ownership Manager from Toyota comments: "Having investigated the opportunities presented by FindsYouCars.com, we have been happy to endorse the service to our entire dealer network. This will deliver customer-driven requests, which enable them to respond with the appropriate stock, providing a rapid, personal and totally secure service. The process not only frees up the customer's valuable time, but also provides real sales leads, with the potential to reduce used car marketing costs."
FindsYouCars.com, which is also the official online car buying service for WhatCar?, matches serious buyers with dealers who have the exact motor they are looking for. Dealers simply create a profile on the site, outlining what cars they typically trade in and the find engine does the rest. It matches their profile with buyers' specific car requirements and automatically sends relevant leads with full contact details included.
Since its launch earlier this year, the response to the service has been extremely positive with more established dealerships coming on board following the £10 a month micro-subscription introductory offer last month. "We have been heartened by the uptake of this introductory offer," said FindsYouCars CEO Guy Walker. "It's clear that vehicle manufacturers such as Toyota are seeing the genuine value of the site as a reliable and cost-effective sales channel."