Up-tempo Audi A1 ready for Paris show debut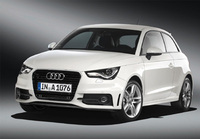 Audi will quicken the tempo of its A1 premium compact hatchback at the Paris Motor Show with the help of a new 'dual charged' petrol engine channelling 185PS through a standard seven-speed S tronic twin-clutch transmission. The A1 1.4 TFSI 185PS will make its world public debut in Paris on Saturday October 2, combining strong and remarkably persistent response with 47.9mpg economy potential and CO2 output of just 139g/km. UK ordering will begin towards the end of 2010.
Employing both supercharging and turbocharging for the first time in an Audi road car, the new compact and lightweight four-valve-per-cylinder engine powering the A1 1.4 TFSI 185PS propels it from rest to 62mph in just 6.9 seconds, and on to a 141mph top speed. As the pace builds, the supercharger intervenes at 1,500rpm to increase thrust, and in most cases disengages at 2,400rpm, to be followed from around 3,500rpm by the turbocharger spooling up to provide another welcome surge. As the supercharger takes care of low-range boost, it has been possible to use a larger turbocharger designed with optimum efficiency in mind, and this is reflected in impressively strong fuel economy and low emissions.
The light and compact seven-speed S tronic twin-clutch transmission that is fitted as standard to the top ranking A1 directs power to the front wheels. Composed of two transmission structures operated by two multi-plate clutches, it performs gear shifts in just a few hundredths of a second and with no detectable interruption of pulling power. The tall seventh gear reduces fuel consumption.
ESP with limited slip differential
McPherson strut front and torsion-beam rear suspension with separate springs and dampers and taut S line settings forms the basis for agile handling, giving keen turn in and impressive mid-corner stability and grip. Speed modulation is taken care of very effectively by ventilated front disc brakes measuring 288 millimetres in diameter and solid rear discs. Control is also safeguarded by the latest ESP stabilization program with electronic limited slip differential, which initiates very brief braking of the inside front wheel when its sensors detect an impending loss of traction during fast cornering.
The performance-oriented S line suspension forms part of the overall S line specification that will be standard for the 1.4 TFSI 185PS version, and includes features such as an exclusive S line exterior treatment, 17-inch alloy wheels and part leather-upholstered sports seats. This is in addition to the Sport equipment level which already includes remote central locking, air conditioning, electric front windows and mirrors, Bluetooth mobile phone preparation, Driver's Information System and a six-speaker single CD audio system with auxiliary iPod connection linked to a 6.5-inch retractable display.
UK pricing for the new A1 1.4 TFSI 185PS has yet to be finalised and will be confirmed nearer to the opening date for UK orders.