Last minute photography holidays to Slovakia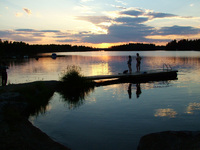 Tatra Photography is offering a £200 saving off of its week long Peaks and Valleys photography holiday in Slovakia's stunning Tatra Mountains.

Departing on 10th October the break costs £995 per person (with discount) and includes: return flights from London Luton to Krakow, (flights from Liverpool, Bristol and Edinburgh available on request), return airport transfers, transport to all photography locations, seven nights full board accommodation based on single/twin or double rooms and 6 days of photography tuition.

Participants also receive a masterclass from Lee Pengelly in photography landscape tuition which includes, composition, shutter speeds, apertures and understanding histograms. Accommodation is in a combination of Penzion 2004, remote mountain cottages and in an apartment at Lomnicky Peak 2634 metres above sea level.

Full information on the holiday can be found at: tatraphotographyworkshop.com

The Tatra Mountains are the highest and only range of the alpine system in Slovakia and feature stunning scenery including: giant waterfalls, lakes, valleys, deep green forests, blue mountain tarns and rugged snowy peaks as well as wildlife, including brown bears, wolves, lynx and deer and an abundant range of flora.