Richard Bertinet's award-winning bread now at Selfridges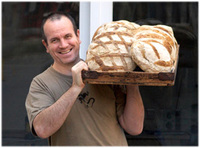 The Bertinet Bakery (bertinet.com) will launch its new organic bread range in September 2010. The initial range comprises more than a dozen breads which will be available in London's Selfridges Food Hall and in Riverford Organic delivery boxes in franchises in much of the south west and across Wales.

Bread will also be supplied to restaurants such as Angela Hartnett at the York & Albany, Tom Norrington Davies at Great Queen Street and many other restaurants and delicatessens in London, Cardiff and the south west.

Michelin starred chef, Angela Hartnett, says: "Richard understands dough better than anyone else and that's why his bread not only tastes incredible but also feels so light. Heaven for me is a slice of Bertinet bread with some butter; it doesn't need anything else - the bread speaks for itself".

The range has been carefully considered to include something for every bread-lover; from the beautiful 1.2kg sourdough loaf to an Italian ciabatta and a rustic rye bread - as well as simple white and brown loaves. A regularly changing speciality loaf will also showcase the best ingredients of the season, such as Provençal olive & lavender or Prune, cardamom & rum. All loaves are organic and certified by The Soil Association.

The Bertinet Bakery's sourdough was the winner of the Soil Association Organic Food Awards 2010 (Baked Goods category) whose expert panel described the sourdough as having "all the subtlety of great bread, fabulous flavours" and "every inch a great rustic loaf". The sourdough along with the ciabatta and spelt were also Gold Award winners at the Great Taste Awards 2010.

"I grew up in a culture where wonderful bread was something everyone would buy from their local bakery every day and spent the past seven years seeing the extraordinary response to my books and bread classes from people discovering the satisfaction of creating their own bread. Now I am on a mission to make great bread available to everyone – bread you can trust as much as something you have baked yourself, bread so good you will eat your crusts and use every last crumb."

Richard Bertinet is an award-winning baker, chef and author. His two books on baking, Dough and Crust, have become modern baking bibles. Bertinet left school at the age of 14 to become a baker's apprentice in his native Brittany. With almost 30 years experience as a baker and chef he now attracts people from all over the world to participate in his renowned bread making classes at The Bertinet Kitchen cookery school in Bath. He has taught his baking skills to the brigades at a number of leading restaurants including Racine, The Providores and Soho House Group and also works as a consultant for major manufacturers developing speciality bakery products throughout the industry.

The Bertinet Bakery, 12 St Andrew's Terrace, Bath, BA1 2QR.