Tracey Emin supports BA 'Save the Postcard' campaign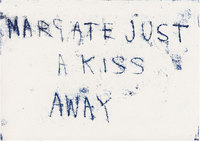 Renowned British artist Tracey Emin is one of a host of celebrities backing the 'Save the Postcard' campaign, launched by High Life – British Airways' in-flight magazine.

A recent survey* reveals that the humble postcard is being replaced by technology, with only 1 in 10 holidaymakers opting to send a postcard. Instead, the majority of holidaymakers prefer to text (60 per cent), email (14 per cent) or send a Facebook message (12 per cent) to their loved ones.

In a bid to save one of the great travel traditions, High Life has invited celebrities to design postcards, which will be auctioned at bahighlife.com from Wednesday 29 September at 17.30, until November 1. All proceeds will go towards 'Flying Start', British Airways' charity partnership with Comic Relief. Together they are working to help transform the lives of vulnerable children living in cities across the UK and some of the world's poorest countries.

David Bailey, Sienna Miller, Daisy de Villeneuve, Diane von Furstenberg, Florence Welch, Giles Deacon, Gordon Ramsay, Jack Vettriano, Manolo Blahnik, Marcus Wareing, Rob Ryan, Axel Scheffler (the Gruffalo illustrator), Stella Vine and Stephen Jones are just some of the celebrities that sent hand-drawn cards from their latest trips.

The highly sought after collection also includes a sketch from Tracey Emin inspired by the British seaside, and an exclusive etching from award winning film director and Comic Relief co-founder, Richard Curtis, featuring a hand-written mini episode of Blackadder.

To back the campaign, High Life is also dedicating its October edition to 'Brit Art' with the queen of Brit Art and former enfant terrible Tracey Emin at the helm as Guest Editor. The magazine will feature a selection of the celebrity postcards, as well as celebrating contemporary British art.

Tracey said; "My father would send me postcards from every place he went, so I could share the magic of his journey as the postcard landed on the floor. I am a big postcard sender, mainly pictures of cute kittens or little animals. In this day and age, when so many people text and email, I am asking you to revive the tradition of the postcard."

High Life editor Kerry Smith said; "With the help of Tracey and all the celebrity contributors, we are hoping to revive and reignite a passion for sending postcards. They are a great record both photographically and emotionally of one's travel – and we want to preserve this beautiful historical resource."

This is the first time in its 37-year history that High Life Magazine will be published with two covers. The first, an intimate portrait of Tracey shot by her photographer boyfriend, Scott Douglas. The second, a special limited edition Tracey Emin-designed High Life cover. This will be a unique collector's edition that will be distributed randomly across the British Airways' fleet of planes to 5,000 lucky customers.

For further details or to join the auction, please visit bahighlife.com.