Volkswagen Caddy with finance from £199 a month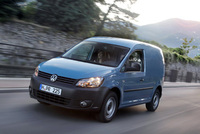 Ahead of the new Caddy's arrival in showrooms next month, Volkswagen Commercial Vehicles has announced extremely competitive finance offers available until 31 December 2010 for all new Caddy and Caddy Maxi panel or window vans.
Contract Hire and Finance Lease offers start from £199 a month (plus VAT and initial rental) for a new Caddy 1.6-litre TDI 75 PS BlueMotion Technology with low emissions of 139 g/km of CO2 and combined fuel economy of 53.3 mpg; finance rates for the larger Caddy Maxi start from £209 a month (plus VAT and initial rental). In addition, Volkswagen offers payment options over 12 to 48 months, with only a minimum deposit of one month's rental in advance.
The BlueMotion Technology models, now available in both the Caddy and Caddy Maxi, already represent the most economical models in the range, and with up to 11 per cent better fuel economy and 15 g/km lower emissions than the previous model, the low finance rates make them particularly cost effective to run.
In addition to low rolling resistance tyres, aerodynamic enhancements and revised gearing, the second generation BlueMotion Technology models also utilise further efficiencies achieved from a Stop/Start system and automatic battery regeneration during braking. Additional specification includes hill start assist and cruise control as standard and, like other models in the range, benefit from a more refined and efficient 1.6-litre common rail TDI engine.
'The best small van has just got even better. Not only does the Caddy look better, it now costs less to run with more fuel efficient engines and outstanding residual values. Our new BlueMotion Technology models are the perfect example of this,' said David George, Head of Marketing, Volkswagen Commercial Vehicles.
The new Caddy range is now available to order, with prices starting from £12,100 (excluding VAT). Details of prices and specifications are available from all Volkswagen Van Centres or from volkswagen-vans.co.uk.