Aston Martin DB9 voted sexiest car of all time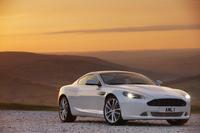 The Aston Martin DB9 has been voted the sexiest car of all time, according to a new survey.
The poll of 3,000 people, by car care experts, Turtle Wax, positioned the super-sleek DB9 in first place, leaving the more famous DB5 - which shot to worldwide fame after starring in the James Bond classic Goldfinger in 1964 – in its wake.
A third of those surveyed opted for the DB9, while a fifth chose the Jaguar E-type as the sexiest car of all time. The Porsche Carerra was named the third sexiest, with one in ten swayed by its appeal. However, the classic Russian Lada 2107 was voted the least sexy, with a 40% share of the vote.
Andrew Freeman, European marketing director at Turtle Wax, said: "The Aston Martin is more than a car, it's a film star and will always be remembered with old-style Hollywood glamour. The DB9 may never have graced the big screen with James Bond but it is a stand-out car regardless. It has a classic style and a superb finish, not to mention it drives like a dream.
"Interestingly, our survey also showed that men and women voted the same when it came to naming the top three sexiest cars. Conventional wisdom tells us that men and women think differently when it comes to cars but our findings reveal they have more in common than we previously thought.
"The classic 1980's Lada is languishing at the bottom of the heap as the least sexy car of all time and it's hard to argue against that when you look at the bland design."
Meanwhile, in the same survey, a quarter of men said they would stop going on nights out with friends in order to save for their dream car, such as a Porsche Carerra. A similar number insisted they would happily go without new clothes for two years so they could afford their favourite motor, while a fifth of men would forsake family holidays.
In stark contrast, only one in ten women said they would forsake family holidays or weekends away with their partners to raise the cash to buy a Jaguar E-Type or any other top car. A fifth of female respondents said they would dump nights out with their girlfriends, in order to help them save.
Andrew Freeman, from Turtle Wax, said: "It's amazing the lengths some people are prepared to go to raise the money for their ideal car. Suddenly family holidays, new clothes and nights out with close friends all become a lot less important than the sole aim of buying that dream car."
Finally, when asked which classic car most people would like to see brought back, the vote was overwhelming - the VW Campervan - the ultimate vehicle of choice for all globe trotters, festival-goers, surfers and rock stars for the past six decades.