Special Edition Suzuki Alto Cruz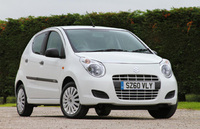 Suzuki has announced the Special Edition Alto Cruz, which goes on sale this week and will be limited to a run of 500 cars.
The Cruz is based on the popular SZ3 mid grade model with air conditioning and pollen filter as standard equipment but offers a higher specification with various exterior trim upgrades; all for £6,953 under Suzuki's extended 'VAT Free' offer.
Cruz is recognised by its stylish new design wheel caps, black side mouldings and black 'B' pillar trims as well as Cruz badging. The Special Edition model is available in either Superior White or Bright Red non metallic colours.
The Alto 'VAT free' offer has been extended until 31 December 2010 and, taking the top of the range SZ4 as an example, represents a customer saving of £1,332 with a purchase price of £7,608.
Alto is also available under a PCP scheme with deposit as low as £149 for the SZ3 model, payable over three years at £149 per month and an optional final payment of £2,741.
Alto is one of the least polluting five-door City cars on the market with tailpipe emissions of just 103g/km as well as offering 64.2mpg on the EC combined cycle. Cost of ownership is also very low with an annual VED charge of £20 and insurance group 1E classification.
Suzuki's popular zero per cent finance offers have been extended until the end of the year and now include the Swift 1.6-litre Sport model. All are subject to a 50 per cent deposit and Swift Sport is available from just £177 per month, payable over three years.
For customers who do not wish to place a larger deposit and need lower monthly payments, Drive Plan PCP's are available across many models in the Suzuki range and, again taking Swift Sport as an example, costs £199 per month payable over three years with a 20 per cent deposit. This carries an interest rate of 5.4 per cent and customers are given the option of paying a final instalment or returning the car at the end of the agreement.
Even further flexibility is offered via a dealer calculator operated by Suzuki Financial Services that can help customers determine a Hire Purchase or PCP plan to suit their individual requirements of deposit, interest rate and monthly payments.