Search is on for 'Britain's Most Adventurous Family'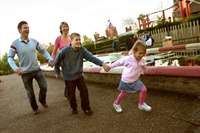 A nationwide search is underway to find the family deserving of the title, Britain's Most Adventurous Family 2011.

Building on the success of the 2010 search which crowned the globe-trotting, backpacking Wilson's, Chessington World of Adventures is hoping British families will demonstrate their adventurous spirit and step up to the adventure plate.

Into its second year, Britain's Most Adventurous Family is a celebration of exploration and daring do, whether it's tree climbing in a local wood, trekking in the Andes, white water rafting in Nepal, taking on a rollercoaster or bug hunting in the back garden, adventure comes in many guises. Whatever their adventure style, families are invited to join the likes of Benedict Allen and Bear Grylls, filming their exploits for judges to choose who has what it takes to be crowned, Britain's Most Adventurous Family.

And whilst the basic premise is to celebrate adventure, there is a serious side to the project. According to Clinical Psychologist Linda Blair who is backing the search, our sedentary lifestyle could be limiting the next generation's development. She explains: "Adventure is an important part of child development. It increases self-confidence, activates problem-solving skills and encourages children to be creative by finding new ways to meet challenges."

And it's not just kids that would benefit from increased adventure in their lives. According to Linda, adults also need a degree of adventure to help alleviate stress, embrace creativity and learn new skills: "In any family unit, shared adventure where emotions may run high can really help develop strong long term bonds that extend way beyond the traditional two-week holiday time."

Families who think they have what it takes, need to film a short two-minute video of their adventures on a mobile phone or camera, and upload it to YouTube, linking to the Britain's Most Adventurous Family site at chessington.com/bmaf where there should also complete an entry form.

Entries must be submitted no later than 31st January 2011. Shortlisted entries will be announced in 2011 with the winning family crowned in March 2011.