Original livery in as 757s bow out at BA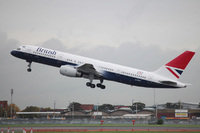 As British Airways forges ahead with renewal of its fleet, it plans to bid farewell in style to one of its longest-serving aircraft types.

With the second new Boeing 777-300ER now in service and more on the way, an earlier Boeing type, the 757, will be retired from operations at the end of the month.

The airline was the global launch customer when the first Boeing 757 took to the skies in 1983 and grew to a fleet that was 54 strong. The aircraft became a familiar sight to customers on British Airways' shorthaul and domestic network. Three now remain, all of which entered service in 1997.

To mark the occasion, one of the aircraft, G-CPET, is being repainted in the airline's 1983 "Negus & Negus" livery.

More than 40 of the fleet were named after famous castles around the UK and the last aircraft will now join its predecessors by being titled "Stokesay Castle" during its final month of service.

Captain Stephen Riley, director of flight operations, said: "Almost everyone in the operational side of the business has either piloted, repaired, dispatched or looked after customers flying on this aircraft over the past 27 years.

"Back in 1983, the Boeing 757, was at the cutting edge of aviation technology enhancing our capability to land in thick fog. This allowed British Airways to fly when rival carriers would be grounded.

"Now we are welcoming the Boeing 777-300ERs to the fleet, which are setting their own new standards in customer comfort and environmental performance."

Stokesay Castle, after which the aircraft has been named, is near Ludlow in Shropshire. The castle is the finest fortified medieval manor house in England. Bought and reinforced by a wealthy local wool merchant at the end of the 13th century, the castle has scarcely been altered since.

English Heritage cares for the castle and its properties director, Tim Reeve, welcomed the naming of the aircraft. He said: "Over the years many British Airways' aircraft have been named after those great castles in our care, castle like Dover and Kenilworth whose names have echoed down through history.

"But as anyone who has visited Stokesay will know, it is something special, an almost domestic castle. We are delighted that it has been recognised and that its name is now flying across the skies."

The last scheduled flights for the Boeing 757s, which can carry up to 170 customers, will be on Saturday, October 30, 2010.