Brian Blessed now available on your sat nav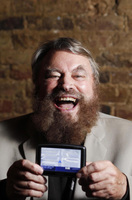 Drivers can now have the booming voice of Brian Blessed as their personal map reader. After a Facebook campaign attracted 25,000 supporters, the king-sized Yorkshireman agreed to record driving instructions in his distinctive stentorian tones - and the Brian Blessed sat nav voice is officially released by TomTom today (5 November).
Best known for his role as Prince Vultan in the film Flash Gordon, the famous actor is also spearheading a campaign for members of the public to become a Voice of TomTom themselves. "Why have a boring old computer voice when you can have a beardy old me," said Brian. "Better still, enter the contest and see if you can get more votes than I did!"
The winner will have their voice professionally recorded and available as a free download from tomtom.com in time for Christmas. They will also win a Renault Mégane Coupé Cabriolet.
Brian can now 'save every one of us' from getting lost. His instructions include gems such as:
"Toll Charge. Give them the exact money and tell them to keep the change" and "You've reached your destination. Congratulations. Onwards and upwards! To Everest next, and the North Pole..."
Motorist Richard Gardner from Manchester launched a Facebook group to make driving more 'shouty', called: "Campaign to get Brian Blessed to do a voice over for my sat nav". After more than 25,000 people signed up, TomTom and the actor agreed to record the voice in what is thought to be a first for creating a product through social media.
In a message to his fans, Brian said: "Hello there, this is Brian Blessed, yes. The real McCoy. A national treasure, the future King of England, no false imitation, no it's me. Actor, mountaineer, singer, astronaut, a right know-it-all, the man with the beard, the biggest voice, the sexiest man in the universe. And here's proof of my identity, now you listen to this: 'Gordon's ALIIIIIIVVVE.....' Ah well, who wants to live forever. 'Squadron 40, DIIIIIIIVVVE....... '. But Brian's alive, so please download my voice for your TomTom sat nav".
Brian's voice can be downloaded from: brianblessed.tomtom.com for £7.95. Customers should check which devices allow voices to be downloaded on the website.
More details on Voice of TomTom, including instructions from Brian on how to enter, can be found at: clubtomtom.co.uk/voiceoftomtom