Buy new in Liverpool for a fraction of the cost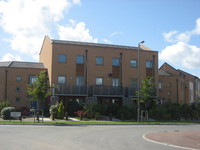 Fly the family nest or escape the rental trap to an affordable home of your own in South Liverpool.
With the help of Government funds, eligible customers have the chance to snap up a brand new home at Cressington Heath, near Garston, for just 70% of the price.
Lesley Myers, area sales manager for Redrow Homes (Lancashire), explained: "The average age of first time buyers purchasing without financial assistance from their parents is now 37. And only recently the Home Builders Federation (HBF) said the average first time buyer would need to save every penny of their earnings for more than two years to get on the property ladder.
"All this makes depressing reading, but HomeBuy Direct could help them buy a home of their own sooner than they thought – and without the need for a hefty deposit."
HomeBuy Direct enables certain groups of purchasers, including first time buyers, families in need of extra space and those starting over after a change of circumstances, to take out an equity loan for up to 30% of the purchase price of selected properties.
Jointly funded by Redrow and the Homes and Communities Agency, the loan is interest-free for the first five years and can be repaid when the customer has more funds available or they come to resell.
"HomeBuy Direct is designed to help those who would otherwise be priced out of the property market invest in their future with a home of their own," Lesley commented.
"And while raising a large cash deposit can be difficult, particularly if you are paying rent while you're trying to save, with HomeBuy Direct you should only need a relatively small deposit of around 5% of the reduced cost. This should give you access to some of the better mortgage rates around. It could be the boost you need to escape the rental trap or fly the nest to a home of your own."
HomeBuy Direct is currently available on selected contemporary homes at Cressington Heath. With the valuable assistance, a four-bedroom property on the market from £182,995 could be snapped up for an initial outlay of only £128,096.
"Buying a home is a major commitment and is a decision that shouldn't be taken lightly. But as HomeBuy Direct is available on selected plots for a limited time only, I would urge potential purchasers to visit Cressington Heath without delay. Our friendly, experienced sales team and our HomeBuy agent will guide purchasers through the buying process answering your questions every step of the way," Lesley added.
"To help purchasers understand all about HomeBuy Direct we've produced an easy to follow video guide to the scheme, which you can watch at your leisure via our online TV channel Redrow TV."
Cressington Heath, off Garston Way, offers easy access to Liverpool city centre and benefits from a wealth of amenities on its doorstep. The development boasts excellent road and rail links, with a train station within walking distance, and is just two miles from Liverpool John Lennon Airport.
To find out more about how HomeBuy Direct could help you buy your dream home, visit the sales office, open Thursday to Monday from 10am to 5.30pm.