Lifeline for first timers in Little Stanion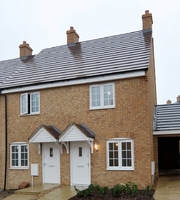 First time buyers are almost entirely shut out of the property market, according to housing experts, but Lagan Homes is pushing open the door for them at Little Stanion, near Corby.
The privately owned family housebuilder is the only developer at Little Stanion able to offer the Government backed HomeBuy Direct initiative – and it's a lifeline for those who desperately want to own a home of their own.
But those wanting to take advantage of the scheme should apply quickly – before it's too late – as purchasers must move into the selected new homes available with this help by the end of March 2011.
To help them, Lagan Homes is hosting a special weekend on Saturday, November 13 and Sunday, 14. A financial adviser will be on site to guide would-be home owners on how the scheme can help them afford a brand new home. Potential customers will also be able to see inside some of the properties that are available for just 70% of the usual price.
Sue Blackman, sales director of Lagan Homes, says: "The Home Builders Federation (HBF) has just revealed that the average first time buyer would need to save every penny of their earnings for more than two years to get on the property ladder. Fortunately that shouldn't be the case at our Long Meadow Walk development at Little Stanion.
"Here, would-be first time home owners with an annual household income of less than £60,000 can own 100% of their new home, but they will only pay 70% in the first instance. This means that a two-bedroom home normally costing £119,950 could be purchased for as little as £83,965."
Purchasers would need to put in a deposit equal to 5% of the initial 70% purchase price (just over £4,000 in the example above) and then the balance would be funded by a mortgage from one of the four top lenders who are supporting this scheme. The remaining 30% is funded jointly by Lagan Homes and the Homes & Communities Agency, is interest free for five years and can be paid back when the home owner has more money available or decides to sell their home.
"If all this sounds a little complicated, would be purchasers should not worry as the sales advisers at Little Stanion can guide them through the process, and can put them in touch with financial advisers and solicitors who are experts in the scheme." Sue adds.
HBD is also available on selected three and four-bedroom family homes, including some with en-suite to master bedroom. Being eligible for the scheme would mean that the initial cost of a four-bedroom 'Camarthen' semi, with en-suite, study, garage and parking, would be brought down from £184,950 to a much more manageable £129,465.
Homes enjoy all the energy efficient, easy maintenance benefits of being brand new, as well as featuring well-equipped kitchens and stylish bathroom suites and fittings, all finished to Lagan's high quality standards. The exceptional finish and specification can be viewed in a fully furnished five-bedroom show home, which is open daily from 10am to 5pm.
The new community of Little Stanion is situated alongside the A43 to the south east of Corby and includes meadows, ponds, playing fields and village greens, plus plans for a new primary school and village shops. It is next to the picturesque village of Stanion with its 13th century church tower and falls within the catchment area of the prestigious Corby Business Academy, which opened in 2008.
For those not eligible for HomeBuy Direct, Lagan Homes can still offer help with moving costs, including part exchange for those with an existing property to sell or the chance to potentially live mortgage-free until February 2012. These and other home owner assistance schemes are plot specific and subject to terms and conditions.
For more information or visit the website: lagan-homes.com