Follow the trail of the Titanic in London and Belfast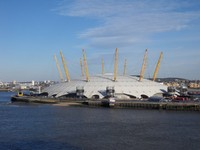 As Titanic fever hits the UK with the opening of The Titanic Exhibition in London, explore the history of the largest and most luxuriously appointed ship ever to sail the seas in early 20th Century.
The new exhibition features over 300 artefacts from the ship itself and several recreations of rooms on board, so visitors can experience life on board the world's most notorious ocean liner. And for an authentic taste of London life during your stay, why not rent a holiday home and explore the city from your own London flat or townhouse? The UK's largest holiday rentals website, HomeAway Holiday-Rentals, lists over 450 private properties in London, including plenty close to The O2 arena, where the exhibition is being held.
In 2012, it will be 100 years since Titanic sank on her maiden voyage from Southampton, England to New York City. Investigate its story with a visit to The Titanic Exhibition London, one of the most historically significant exhibitions in the history of the ship or head to Belfast for a Titanic themed short break. The liner was built in Belfast, so there are several Titanic tours available throughout the year including a tour guided by Susie Millar, the great granddaughter of a crew member who worked on building the ship and then sailed on her maiden voyage in 1912.
For a short break to either London or Belfast to get a glimpse of the past, choose from one of the properties below or browse HomeAway.co.uk for more than 450 London holiday rentals and 20 self-catering properties in Belfast.
Prices quoted are per property per week and correct at the time of going to press.
LONDON
Apartment in Docklands with great views of the River Thames and the Dome
2 Bedrooms, Sleeps 4. From £1,050 per week
This is a modern two bedroom apartment located on the 9th floor of a prestigious development. This apartment boasts wooden floors throughout with tiled floors in bathrooms, fully fitted kitchen, fitted wardrobes and balcony offering breathtaking views of the River Thames and the Dome.
HomeAway.co.uk/p441699
Mews house part of newly converted carriage factory near Greenwich
3 Bedrooms, Sleeps 7. From £770 per week
Situated on Old Father Thames historic Royal Borough of Greenwich, this is a luxury Grade 2 listed mews house with private front terrace and original brick facade of a carriage factory which provides a contrast to the sleek modern interior. The house is set within a conservation area on the prestigious award winning Royal Arsenal.
HomeAway.co.uk/p449695
BELFAST
Luxuriously appointed townhouse in leafy South Belfast suburbs
3 Bedrooms, Sleeps 5. £495 per week
Balmoral Townhouse is ideally located, close to all amenities and transport links. Situated between the prestigious Malone and Lisburn Roads it makes an ideal base for exploring Belfast city and the surrounding countryside. The property has been furnished and maintained to a very high standard and provides every comfort for a relaxing and enjoyable break.
HomeAway.co.uk/p423114
Fabulous Belfast City terraced house
3 Bedrooms, Sleeps 5. £350 per week
The property is located in a bustling area close to the city centre offering a great slice of Belfast city life. It was completely renovated to a very high standard in 2007 and yet retains all the character of a traditional terrace house. The accommodation downstairs comprises a cosy lounge with gas fire and bay window, a good size dining area for six and a modern fully equipped kitchen with a breakfast area by the French doors leading to a great city garden. Upstairs there are three bedrooms and a newly fitted luxury bathroom.
HomeAway.co.uk/p448632