Suzuki capitalises on demand with double appointment in London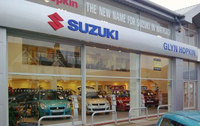 At a time when many retailers are closing their doors due to falling car sales in the UK, Suzuki has started 2009 on a high, appointing two new car dealers in North London to meet the increasing demand for models in the Japanese manufacturer's automobiles range. The addition of JEM Suzuki and Glyn Hopkin Suzuki to the network brings the total number of Suzuki franchise outlets within the densely populated M25 area to 11, and nationwide to 146.
JEM Suzuki, situated on the Edgware Road in London (NW9), is a solus facility operated by Japanese vehicle specialist JEM Limited, who brings 30 years' experience of retailing and servicing Japanese new and used cars. JEM Limited were the previous owners of Jemca Plc, Europe's largest Toyota and Lexus dealership.
Suzuki's new showroom on Lower High Street in Watford sits alongside that of Nissan at the existing Glyn Hopkin premises, part of one of Europe's largest and most successful motoring organisations, and offers customers sales and aftersales facilities.
Commenting on the expansion of the Suzuki dealer network, Dale Wyatt, General Manager of Dealer Development, Suzuki GB, explains: "We are delighted to welcome both JEM and Glyn Hopkin to our franchise network. They join at an exciting time for the brand with the imminent introduction of the new Alto model, a car ideally suited to driving in a city like London. The Capital represents an important customer base which we are looking to expand this year."
For further information on JEM Suzuki, visit jem.suzuki.co.uk
For further information on Glyn Hopkin Suzuki, visit glynhopkin.suzuki.co.uk
To view the Suzuki automobiles range, visit suzuki4.co.uk