New Alto set to clean up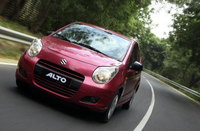 When the new Suzuki Alto goes on sale in the UK on 01 March 2009, it will stake its claim as being the lowest emitting five-door petrol family car on the market. The Alto is the fifth global strategic model in the Suzuki line-up and is powered by a three-cylinder 67 bhp 1.0-litre engine producing emissions of just 103 g/km.
The first European-specification model to be exported in three years from the Maruti Suzuki plant in Delhi, India, which is celebrating its 25 year anniversary, the Alto will join three other models in the Suzuki range boasting emissions of less than 120 g/km, including the newly-introduced 1.0-litre Splash GLS variant.
With consumers paying more attention to spending as the economic climate becomes more difficult, motorists are increasingly turning to smaller cars which offer higher fuel economy in addition to lower CO2 and running costs. With an on the road price starting at £6,795 coupled with an impressive combined fuel consumption of 64.2 mpg and £35 annual road tax (VED Band B), the stylish Alto is set to be a very attractive prospect for buyers.
Commenting on the introduction of the new Alto, David Seward, Director of Sales and Marketing, Suzuki GB, explains: "There has always been a continued drive by Suzuki to offer fun and exciting products combined with value for money, and the forthcoming Alto is no different. Furthermore, being able to offer such an environmentally-friendly petrol engine is a rare proposition as we are one of very few manufacturers to break the 104 g/CO2 barrier, as EU emissions targets become even stricter."
For further information on the new Alto and Suzuki automobiles range, visit suzuki4.co.uk