Suzuki at Geneva Motor Show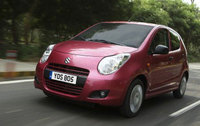 The Suzuki Motor Corporation will use this year's Geneva International Motor Show to present the next steps in their eco strategy. At their stand number 4251, in hall 4, the company will demonstrate their commitment to offer technologically advanced, yet affordable eco-friendly vehicles to customers.
New Suzuki Alto offers eco-friendly driving fun
This spring, the all-new Alto will be introduced to European markets; the all new City car has been developed with eco-friendly urban motoring in mind, delivering low CO2 emissions (103g/km) and high fuel economy (64.2mpg combined).
At the same time, the compact new Alto offers driving pleasure at an affordable price, uniquely wrapped up in a stylish and practical package.
Further steps for Suzuki's eco project
The core of Suzuki's eco project is a continuous improvement of vehicle eco-friendliness by researching and developing new technologies. In Geneva, Suzuki will show the next steps of this project – the application of the engine auto stop/start system, being the latest milestone in this strategy, and a variable valve timing mechanism to the next generation Splash and Alto. The global leader in the mini vehicle segment will be able to further minimise their already low CO2 emissions significantly in the future – but always taking into account complexity and competitive pricing.