Let GV entertain you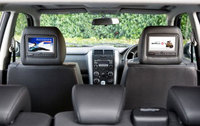 Suzuki GB is pleased to announce the addition of a new state-of-the-art all-in-one, dual-headrest DVD system to their Genuine Accessories range. Developed specifically for the recently revised Grand Vitara five-door 2.4-litre model, the entertainment unit is also available for all other variants of the popular SUV.
Manufactured by Rosen, a leading mobile video entertainment provider of in-car DVD based systems, the AV7500 package features a seven-inch widescreen LCD display and integrated top entry Tilt-N-Load DVD player, built into two matching Suzuki factory-approved replacement front headrests.
The high-specification unit comes complete with an FM transmitter connected to the vehicle's audio system, MP3 player, and 25 'all age-friendly' video games which can be played using the supplied wireless hand-held game controller. With front-mounted USB and AUX ports, further films and music can be accessed from either a laptop computer or compatible external MP3 device.
Whatever the chosen entertainment, which can be listened to in four surround-sound modes, there is little chance of disturbing other members of the family thanks to two-channel infra-red wireless headphones which can be folded flat for easy stowage.
Furthermore, each of the headrest-mounted units can be programmed to function independently of one another, and each display can be operated either by passengers directly or by using the wireless remote control.
The new Suzuki Genuine Accessory can be purchased from any Suzuki franchised dealer at a cost of £999 including VAT, excluding installation. The unit is backed by a three-year warranty.
For further information, full specification and price list, visit suzukigenuineaccessories.co.uk
To find out more about the Suzuki automobiles range, visit suzuki4.co.uk