Suzuki Alto - A car of its time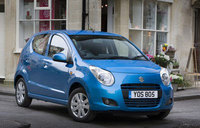 Governments around Europe are introducing scrappage schemes to boost sales - throw away your smokey old banger - typically around 10 years old - and buy a new, clean, green model and you get a couple of grand back in return.
We await the UK's response to pleas from the industry to kick-start the market here, but sales in Germany are already back on the climb and industry insiders there predict the measures could add as many as 400,000 sales this year.
With the UK market looking as though it will plummet to 1.6 million this year - down from 2.3 million in 2007 and a half million or so down on last year, we could do with some of that. If it happens, what a great time to be introducing a small city car with a kick off price of £6,795 - that could come down to £4,500 or so with some sort of Government-backed incentive scheme.
The car in question is the Suzuki Alto, launched March 1 and currently being put through its paces by the European press in Rome. Its 1-litre, 3-cylinder engine is nicely suited to pottering around cluttered roads and surprisingly sprightly on the motorway.
Rev that engine and it can be quite fun, it certainly sounds fun, although you find you do start to run out of puff, particularly if you become too adventurous in combat on the autostrada.
The engine emits just 103 g/km of CO2 and that is set to drop even lower with the introduction of a stop-start system on the Alto in the near future. Shigaki Suzuki - yes, the name's the same as the company - Suzuki Europe's engineering director says this will bring the car's emissions down to 95g/km. As it stands now, the Alto returns up to 64 mpg according to the manufacturer's figures.
This is the seventh generation Alto dating back 30 years. Suzuki Europe president Minoru Amano says the city car was originally introduced in Japan to take advantage of two emerging trends there: families were starting to buy a second car ....and more women were taking to the roads. A small, affordable runabout was the order of the day.
It still is, although the circumstances have changed. So has the global automotive industry. The Alto is built in India at the Suzuki Maruti joint venture close to Delhi, as was the previous model which was taken off the UK market in 2006.
Suzuki GB plans to sell 7,200 Alto's a year and having the additional model should keep sales up to last year's levels of more than 26,000. The previous Alto's best year was 2004 with 8,200 sales.
It is now available with five-speed manual or four-speed automatic transmissions and three grades of specification shifting the price upwards to £7,960 for the top spec SZ4. This model comes loaded with electronic stability programme, curtain shield airbags, 14-inch alloy wheels and front fog lamps
The interior is smart and functional and perfectly capable of seating four adults without discomfort. Some neat little touches in terms of storage space - particularly the illuminated storage compartment suitable for iPod or mobile telephones.