No deposit? No problem with Barratt in Stockton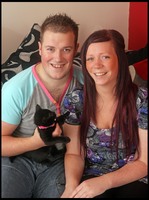 First-time buyers Michael Robson and Sarah Atkinson needed no deposit to buy their new home at Barratt North East's Hardwick Green development in Stockton.
The couple took advantage of the Government-backed HomeBuy Direct scheme, which enables buyers to move in for 70 per cent of the price, and a special no deposit mortgage offer.
Michael, 20, a technical support analyst for a local firm and Sarah, 20, a nursery assistant, are now settled into their new home with pet kitten Flo.
The couple had been living with their parents in Middlesbrough and Stockton, but wanted to a buy a place of their own and called into Hardwick Green to take a look.
"We really liked the house but couldn't afford the deposit on top of everything else, so we thought we'd have to give it a miss for the present time," said Michael.
"But then we got a call from Barratt to say we might not need a deposit, so we went back to find out more.
"The sales advisers Sue and Debbie were very helpful. They did an awful lot of running around and getting papers signed.
"We wouldn't have been able to move in without the HomeBuy Direct scheme and it would have been a year or two before we could have saved up enough for a deposit."

The couple bought a 3-bedroom 'Palmerston' house which came with extras including carpets, fridge/freezer and washer.
Michael added: "Our new home is perfect, just what we wanted. It's great having our own space."
The couple were able to take advantage of a further funding release for the HomeBuy Direct scheme at Hardwick Green.
The original scheme came to an end in September, but homes at the development have become eligible for a new release of Government funds called Kickstart, which is designed to boost the local housing market.
Fenton Hewitt, Sales Director at Barratt North East, said: "Everyone knows that public spending is being squeezed at the moment, so it's great news that local people are still able to get on the property ladder with the help of Government money.
"HomeBuy Direct can dramatically reduce the initial cost of house purchase and for people who have been priced out of the market for years this is an outstanding opportunity to own their own home."
"I'd advise anyone who is interested to come and talk to us."
The scheme gives buyers the opportunity to move in for only 70 per cent of the price, with the remaining 30 per cent covered by a loan from Barratt and the Government's Homes and Communities Agency. Because a smaller mortgage is required, monthly repayments should be more affordable.
HomeBuy Direct is open to a wide range of people who don't currently own their own home. Eligible households will be earning less than £60,000.
The scheme can bring the move-in price of a 2-bedroom home at Hardwick Green down from £97,500 to £68,250. It means that buyers could move in with a deposit as low as £3,412 – or may need no deposit at all, like Michael and Sarah.
The sales centre and showhomes are open daily from 10.00am to 5.00pm.