PJ Hire trials its greenest mobile access platform to-date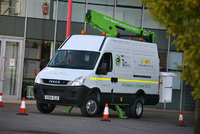 Chelmsford, Essex-based PJ Hire Services has taken delivery of the first new Euro 5 van in the UK to be mounted with a hybrid Versalift mobile access platform. The 5.2 tonne Iveco ECODAILY combines its Enhanced Environmentally friendly Vehicle (EEV) emissions status with a semi-electric access platform which can operate without the vehicle's engine running.
Supplied by Iveco dealer Hendy Van & Truck, the ECODAILY 50C17 joins a 180-strong fleet of commercial vehicles operated by PJ Hire Services from its seven depots across southern England. It has been purpose-built for the street-lighting sector and will be used exclusively by PJ's largest customer, May Gurney/Cartledge, a division of infrastructure support services parent company May Gurney.
Richard Buttling, Fleet Manager at PJ Hire Services, explains: "We're continually looking for ways to make our fleet even greener and have worked closely with Versalift to develop this new technology. By combining the environmental benefits of the ECODAILY with a hybrid lifting platform we are setting new standards for the market and delivering a significant carbon saving for our customer.
"There is also the added value of reduced noise. Cartledge is routinely required by councils to operate at night, and the ability to service a street light in a residential area without the engine constantly driving a PTO is a huge benefit," he says.
Versalift's semi-electric platform allows the operator to switch off the vehicle's engine once on-site, with a battery powering the operation of the boom. Should the battery ever run down whilst working the operator can simply start the engine remotely from the cage, engage the PTO and carry on.
The battery is sufficiently powerful to undertake 60-80 lifts per day, with the proven 3.0 litre Fiat Powertrain Technologies (FPT) engine recharging it when travelling between jobs.
Like all similar vehicles on fleet, the ECODAILY features an emergency stop button installed in the cage and at the base, a manual emergency pump and twin stabilisers operating within the vehicle's width. The van body is also ply lined and features racking to enable tools and equipment to be carried, plus flashing roof beacons for maximum safety.
The ECODAILY also offers PJ Hire a best-in-class turning circle of just 12.0m, essential for maximising manoeuvrability in restricted urban environments. The traction provided by the ECODAILY's rear wheel drive set-up also ensures excellent grip under all road conditions, especially when starting from rest on a steep slope. The driver and crew are guaranteed easy access to their tools and equipment, thanks to twin rear doors offering 270° opening, with automatic door stops at 90°, 180° and 270°, together with a wide side sliding door.
Buttling adds: "The Iveco Daily and ECODAILY range ticks the box for all of our mobile access platform applications between 3.51 and 6.5 tonnes. The robust steel chassis provides a solid base for mounting the boom, whilst our experience has found the driveline delivers excellent reliability."
Iveco has achieved the rigorous EEV emissions levels by using sophisticated two-stage turbo-charging engine technology in combination with exhaust gas recirculation (EGR) and a diesel particulate filter (DPF), with filter regeneration controlled by the engine management system. The 3.0 litre engine – which exceeds the emissions standards required by Euro 5 – is capable of producing 170 hp between 2,990 and 3,500 rev/min, and up to 400 Nm of torque between 1,250 and 2,990 rev/min.
The vehicle is expected to remain in service with PJ Hire Services for between five and seven years. It will be on the road up to seven days a week covering an estimated 25,000 miles a year.