Van dealer's campaign targets captive audience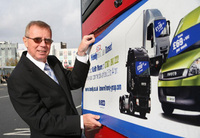 A family-owned commercial vehicle dealership is targeting potential new customers in their natural environment – as they wait in traffic. Hendy Group, which was established 150 years ago, is using advertising space on the backs of buses throughout the south west of England to promote the full range of Iveco vehicles it offers through Hendy Van & Truck.
The adverts will appear on 15 buses in four different areas - Dorset, Somerset, Devon and Cornwall - and each will feature the name of the local sales manager and a van or truck most suited to the local area. For example, the adverts on Cornish buses will feature Iveco's new 7-tonne Daily, which is ideally suited to operation around narrow Cornish lanes.
Hendy's Commercial General Manager Mike Roberts said: "We wanted to come up with an ideal way to communicate with drivers, and where better than in traffic?
"We have used various different advertising mediums in the past, but our target market is the drivers waiting in traffic. Van drivers spend hours stuck in traffic behind buses so we are guaranteed a captive audience."
Outdoor advertising company CBS Outdoor is managing the £10,000 campaign. Kirsty Sullivan, CBS' Business Director for the West and Wales region said: "Advertising on buses offered such a natural fit for Hendy Van & Truck as it allows them to engage with 600,000 people in their campaign marketing area who see bus advertising every week."

Hendy Van & Truck operates Iveco dealerships in Poole, Dorset; Yeovil, Somerset; Exeter, Devon and in St Austell, Cornwall. In addition it has two Hampshire dealerships in Cosham and Chandler's Ford.