Geordie accents are best - ye knaa what ah mean leik?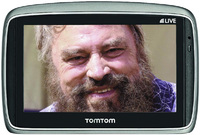 The Geordie accent is the most popular in Britain according to a survey released by TomTom in its quest to find the new 'Voice of TomTom'. The Scottish brogue comes in second, followed by the Welsh voice in third place.
The most popular accents for broadcast media are Scottish, Geordie, and 'Posh' - which was also voted most authoritative overall. Scottish voices are considered the sexiest, even though they're also the hardest to understand and the lyrical Welsh accent is the most pleasing on the ear.
The most disliked accents are Brummie and Scouse, although one in seven people claim not to dislike any British accents. Geordie was voted the most friendly and the most fun to listen to, whilst Scouse is the most irritating and easiest to mimic.
The survey was released by TomTom to mark the launch of a nationwide contest to find a new 'voice' for their navigation devices. A member of the public will be chosen to join the likes of John Cleese, Billy Connolly and Homer Simpson as an alternative to the standard computerised voice.
The least popular on TV and radio are the Brummie and Norfolk/Suffolk voices, although nearly a third say they prefer to hear presenters with no distinct accents.
The actor and competition judge Brian Blessed, whose booming instructions have also just been launched, commented: "I'm pleased to see the Yorkshire accent was voted the most reassuring, so I'm hoping for a big-hearted entry from my neck of the woods. But what this survey shows is that people find a broad spread of regional accents appealing for different reasons".
The TomTom survey also found that more disagree than agree with the statement that "there is no such thing as a 'British' accent anymore". However, people are more likely to agree that regional accents are losing their distinctiveness as a result of population mobility and the multi-cultural society - and that this is a bad thing.
Almost a quarter of respondents said they would be unlikely to go on a date with someone they found attractive but whose accent they did not like, with Brummie and Scouse accents again the biggest turn-off.
More details on the Voice of TomTom contest can be found at: clubtomtom.co.uk/voiceoftomtom including instructions from Brian Blessed on how to enter.