Festive cheer at St Marys Court, Portskewett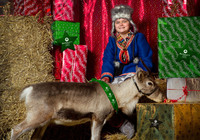 Barratt is transforming its exciting new St Mary's Court development, in the idyllic village of Portskewett, into a winter wonderland this December – with a little help from an 11-year-old and her reindeer.
Visitors to the site on Sunday 12 December from 12pm until 4pm will be greeted by Santa and his furry helpers as Barratt recreates a scene from the North Pole.
"This is such a magical time of year and we wanted to offer our guests and their children a chance to meet Santa and take a closer look at the special homes on offer here at the same time. And we are delighted to welcome Lottie Sweet to St Mary's Court,'' said sales director Adrian Bird.
"At just 11-years-old, Lottie has her own reindeer hire business. This is a feat in itself but Lottie also has to cope with the challenges of Dyslexia – which she does brilliantly. And we wanted to show our support to this innovative young lady by welcoming her and her two reindeer to the development for this special occasion."
In addition to meeting and having photographs taken with Santa, visitors to St Mary's Court will have the opportunity to sprinkle magical gold dust onto the reindeer before making a wish.
"This is a wonderful development – with plenty of neighbourhood spirit," said Adrian. "In fact, it is fast becoming an important part of the local community. So we thought we would reinforce this by playing host at St Mary's Court December.
"The team here is looking forward to meeting as many local people as possible and we also wish Lottie and her reindeer the very best of luck for the future with her awe-inspiring venture."
St Mary's Court is situated on the Welsh short of the Severn Estuary, between Chepstow and Caldicot. The development has smart new homes to suit every lifestyle – with a range of three, four and five bedroom properties. Prices start from just £181,995.
Just seven miles from the M4, St Mary's Court offers excellent commuting links to Bristol, London and Cardiff. The village itself is steeped in history and tradition – and is even mentioned in ancient Welsh stories as one of the three chief ports of Wales.
For more information on current availability at St Mary's Court, log on to barratthomes.co.uk.