Stop renting, start buying in Derby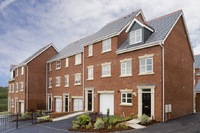 Experts are advising first time homebuyers in Derby to consider making the move into home ownership as renting prices continue to increase.
Landlords hiked their rents for the eighth consecutive month during September, with the average price of renting a two bedroom home in Derby rising to £535 a month.
According to housebuilder Morris - the developer behind the City Point, off London Road – by taking advantage of schemes like the Government-led HomeBuy direct scheme, buying a new home could be more reasonable than renting.
The popular scheme, which enables qualifying first time buyers and key workers to purchase a new home with a mortgage for just 70 per cent of its market value, is available on selected properties at Morris' City Point.
Cindy Vials, regional sales director for Morris, said "Renting can sometimes seem like the only option in this current market but first time buyers need to be aware that the HomeBuy Direct scheme really is an opportunity of a lifetime that can save you thousands of pounds.
"Not only does it cut down the size of your deposit considerably, it also means that the cost of your monthly mortgage repayments is cheaper than the average price of renting the same property.
"At City Point, with HomeBuy Direct it could cost you just £499 per month to own a brand new three bedroom home**."
Morris currently has a selection of properties available under the HomeBuy Direct scheme at City Point starting from just £118,950.
The housebuilder is also offering to include fitted curtains, carpets, a fridge freezer and a washer dryer in selected properties at the development as well as giving a £500 John Lewis voucher so you can treat yourself before the big move†.
For more information about City Point development, you can visit the sales office (open daily between 9:30am and 4:30pm) at City Point, London Road, Derby, DE24 8UG.
*HomeBuy Direct is based on paying just 70% upfront, with a 30% equity loan for the remaining amount – interest free for 5 years. Price is correct at time of going to press.
**Your home may be repossessed if you do not keep up repayments on your mortgage. Monthly payments based on HomeBuy Direct price with a 2 year fixed rate mortgage at 3.19% with Nationwide over 30 years and including a 5% deposit from the buyer.
†On legal completion for reservations taken before December 31st 2010. Details and prices correct at time of publication.