Ray takes the reins at Gerard Mann Commercial Vehicles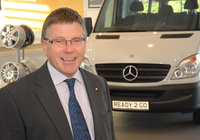 There's a new pair of hands on the wheel at West Midlands Mercedes-Benz dealer group Gerard Mann Commercial Vehicles.
And newly installed Dealer Principal Ray Armstrong has already begun making some significant changes with the aim of further improving customer service and staff morale, as well as increasing profitability.
Gerard Mann employs a staff of more than 200 and sells and supports the award-winning Mercedes-Benz truck and van ranges, as well as Fuso Canter light trucks, from dealerships in Birmingham, Coventry and Wolverhampton.
Ray brings more than 30 years' experience in the motor trade, 20 of them at general manager level, to his latest role. He spent the last four years working for Gerard Mann Commercial Vehicles' parent company Inchcape plc – most recently, he ran several Toyota centres, but he has also held senior positions in Ford car and van and Iveco dealerships.
"Of course there are significant differences between car and commercial vehicle sales," he said. "Here at Gerard Mann we never forget that a truck or van represents an operator's livelihood. So breakdowns aren't just inconvenient, they actually cost money for our customers. It's vital, therefore, that we do everything possible to keep their vehicles on the road and I'm determined that this must be the focus of all that we do."
Ray continued: "I have three main aims: to improve customer satisfaction, to increase our staff's engagement with their work, and to drive up our profitability – because without profit we can't continue to provide the services our customers need."
One of his first moves has been to restructure the management of Gerard Mann's sales teams. The company now has new and used van sales managers at each of its three sites, and a fourth manager based at Birmingham with group-wide responsibility for new truck activity.
Ray has recruited new service managers for the three locations and each has been charged with the task of improving still further, the high levels of service that customers relying on Gerard Mann's workshops have enjoyed previously.
"All of these new managers are seasoned professionals, with a wealth of van and truck experience," confirmed Ray. "They're a great team."
Another development has seen the establishment of a group trade parts sales team, based in Birmingham. "This aspect of our business was previously handled by each site individually," explained Ray. "But while deliveries will still be made from all three sites, the ordering and administration processes have been streamlined and centralised. The result is a much more efficient service provided by staff who deal solely with trade customers, several of whom have already provided some very positive feedback."
"We have some first-class people at Gerard Mann and it's highly gratifying that so many of them stay with us for so long," added Ray. "No fewer than 56 members of staff have been with this company for more than 10 years and between them they've racked up an amazing 1,057 years of experience and loyalty!"