Heather Mills' new cook book promises passion on a plate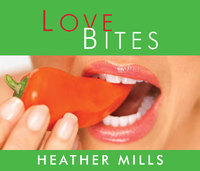 Promising passion on a plate, Heather Mills' inspirational new vegan cook book LoveBites is a celebration of wonderfully wholesome recipes collected from around the world.
In this beautifully illustrated book, Heather shows just how easy it is to create 'little bites of love' with mouth watering meat-free versions of every day family favourites such as Shepherd's Pie, Chilli Con Carne and Stroganoff.
From simple starters such as Beans on Fire to warming soups, tasty salads and main courses such as Chicken Style Red Curry with Aubergine, there's definitely something for everyone in this easy to follow, colourful book with its practical, wipe-clean pages.
"I've always had a love affair with food," says Heather, who first embraced a vegan diet rich in vitamins, minerals and proteins when she was injured in a motorcycle accident in 1993 to help the healing process.
"To begin with I found it difficult to make the change to a plant based diet a permanent one because I missed my old recipes.
"But in this book I hope to show that it's really easy to change to an environmentally friendly diet and recreate meat-free versions of traditional family favourites without giving up on great tasting, satisfying food."
Many of the recipes in Heather's book, such as the Chicken Style Taco and Spicy Sausage & Chorizo Style Casserole, feature the award-winning vegan 'meats' produced by Heather's ethical vegan food company Redwood.
Produced from 100% natural plant-based ingredients and free from meat, egg, dairy, lactose, cholesterol, hydrogenated fats, artificial colours/preservatives and GMOs, Redwood foods are perfect for conjuring up delicious and more compassionate versions of hundreds of dishes from around the world.
Pop into Heather's popular restaurant VBites at Hove Lagoon and you'll find them on the menu there too!
"I hope this recipe book will inspire people to cook the great variety of dishes on offer and create exciting, friendly menus filled with the most important ingredient of all, love!" says Heather.
Heather will be signing copies of her book at the official launch on Sunday 5th December at VBites, her restaurant at Hove Lagoon, from 14.15-19.00.
Available from Amazon, LoveBites costs £9.99. All proceeds will go to charity.
For more information, visit: vbites.com