Sledges shipped in from States as snow continues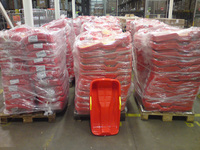 16,600 extra sledges are being shipped in from the USA as the snow keeps falling, Halfords reports.
The car accessories retailer has sold a record 5,700 sledges in the last 3 weeks, as families rush to enjoy the cold snap, compared to the 72 that were sold this time last year.
As the UK shivers from the coldest recorded temperatures for this month since 1985, with some parts colder even than Moscow, Halfords is working hard to keep up with demand.
Another 4,600 sledges will arrive in stores today from the USA, followed by 12,000 more sledges that arrive on Friday.
Customers are so keen to get out into the snow that 1,500 sledges from the new deliveries have been pre-ordered on Halfords.com.
Louise Robinson, Product Manager at Halfords said: "The cold weather has hit the UK so early this year, and this has prompted a phenomenal demand for sledges.
"We've been working behind the scenes to ensure that sledges are ready on the shelves for anyone that wants them, so that people can get outside and have fun in the snow."
For more information, visit halfords.com.