Morris offers heavenly homes in Derby with Guardian Angels scheme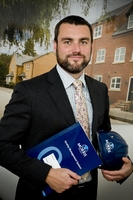 A housebuilder in Derbyshire, which recently topped a poll for customer satisfaction, is lifting the lid on the secret behind its happy homebuyers – old fashioned customer service.
Under Morris Homes' 'Guardian Angels' scheme, a board-level director will personally run through a checklist at every single new property to check the finish on everything from the plumbing and electrics to the doors and skirting boards before handing the keys to its new owners.
Chris Lilley, regional managing director at Morris Homes, said: "Unlike other developers, we do all the snagging for you – so there are no little niggles when you move in and you can get on with simply enjoying your new home.
"We always go the extra mile to make sure our homes are in tip top condition before you move in but if anything should go wrong – buyers have our promise that a 'Guardian Angel' will personally sort it out."
Morris, the builder behind the City Point development in Derby, was named the region's best builder in May as part of a Government-backed scheme to track homebuyer satisfaction nationwide.
Morris achieved the highest score of any major developer in the North of England (over 94% satisfaction rating) for the build quality of its new homes and customer service standards. As a result, Morris has been awarded a full 'five star' rating.*
The housebuilder also recently picked up 13 Pride in the Job Awards from the NHBC – a record number for a company of its size. The awards are part of the NHBC's ongoing campaign to promote on-site excellence in the housebuilding industry and to recognise the expertise of quality site managers.
For more information on Morris' developments, visit: morrishomes.co.uk
* The satisfaction survey is commissioned annually by the Home Builders Federation (HBF) and includes feedback from over 16,000 housebuyers. The survey asks people to rate their builder for the quality of their homes and also whether they would recommend the company to a friend.