Angelina Jolie sparkles at premiere of The Tourist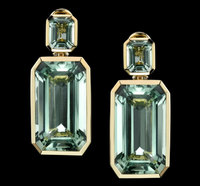 Angelina Jolie modelled a dazzling pair of Green Beryl Tablet Earrings from Robert Procop Exceptional Jewels to the premiere of her latest movie, The Tourist.
The star has worked with Robert Procop, a close friend who has been her private jeweller for over a decade, to develop a collaborative collection, the proceeds from which will benefit her charity The Education Partnership for Children of Conflict. Procop also sourced or designed all of the jewellery for The Tourist, which is one of many blockbuster movies in which his designs have featured.
Jolie wore a beautiful full-length white wraparound cashmere Versace gown slit to the thigh to the premiere, which she paired with white Ferragamo high heels and the sparkling green beryl tablet earrings. Beryl is a gemstone which is treasured by ancient cultures. The green beryl gently shimmers in delicate tones of light emerald green which is beautifully complimented by the bold tapered angles of luminous yellow gold. The design is inspired by ancient carved tablet engravings, encapsulating the essence of hidden meaning and artistic passion; the tablet design style began when Angelina and Robert Procop created a special gift of a tablet-faceted pendant containing a secret engraved message for the star's partner, Brad Pitt.
Robert Procop Exceptional Jewels is a new venture designed to create unique jewellery masterpieces with an emphasis on showcasing some of the world's most important rare gemstones.
Robert Procop owns one of the world's most important collections of rare coloured diamonds and gemstones and he has assembled an elite team of craftsmen and designers who will work with him to showcase the natural beauty of these remarkable stones through a series of bespoke collections. The desire to acquire rare gemstones is growing among both consumers and investors who, aside from their beauty, are driven by a loss of confidence in traditional assets as well as a renewed perception of the gemstone as a safe store of wealth – a tangible asset with strong investment potential. Because of this, Robert is often trusted counsel to customers searching for a piece that provides a wise and strategic investment in the current market.
Robert Procop has built up an extensive clientele of the most discerning purchasers of jewellery across the world – he has been a longstanding trusted private jeweller to international dignitaries, royalty, celebrities and other discerning connoisseurs. For this new venture, he has opened a Creative Studio in Beverly Hills, a Gemstone Laboratory in Geneva – where each stone is verified and prepared for the atelier – and offices in New York and Hong Kong. Robert Procop charts the journey of each and every diamond and gemstone used in his collections and is involved at every stage of the creative process.
Commenting on the launch of Robert Procop Exceptional Jewels, Robert Procop said: "I have long had a love affair with coloured diamonds and gemstones and it gives me such pleasure see some of the world's most incredible, rare stones transformed into stunning jewels. It is a privilege to work with such exceptional raw materials and I am fortunate to have such a fantastic team of designers and craftsmen who will work with me to ensure that the collections showcase their natural beauty and incomparable quality."