No more taboos for brides with tattoos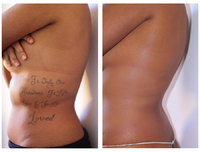 Every woman wants to look flawless wearing their dream dress, whether low cut, no back, off the shoulder or sleeveless. But many women for many different reasons often have to reconsider their childhood dream of how their dress will eventually look on that one special day.
She will have many discussions with the dress designer of how to cover up her tattoo on her back, or the blemishes on her arms or the stretch marks on her cleavage. The list can go on for brides, and how stressful does this become with a million and one other things to think about.
Well, Gerri Facey of Take Cover Skin System can introduce you to a simply applied solution that will allow you to wear your dream dress exactly the way you want it!
Gerri who is a Skin Camouflage Technician Situated at the Hale clinic in Regent's Park, will carry out a formulated colour match consultation that will create a perfect skin tone to blend into your own colour in order to flawlessly camouflage any blemishes, scarring or tattoos you may have on you face and body. This will leave a natural glowing healthy looking skin that will enable you to go through your day without the worry of your make up smudging or rubbing off or soiling your special gown.
To ensure the smooth flawless appearance Gerri will use an airbrush system, and once you are happy with the colour match this will be kept on file until your special day, where you will be airbrushed to perfection.
Once the makeup is applied to the body, it dries immediately and is then sealed using a fine powder that will enable the makeup to remain on your body for up to five days. As the makeup is water proof, you will be able to shower or visit the gym or bathe in the sea without the worry of it coming off!
Should you wish for the whole bridal party to benefit from this service, a free demonstration of the product and its effects can be arranged at your convenience. To arrange for a free bridal party demonstration contact Gerri by email at: info@takecoverskinsystem.co.uk
To book an appointment for a colour match consultation, visit: takecoverskinsystem.co.uk