The new 2007 Toyota Avensis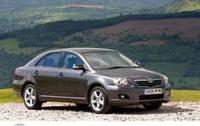 As the flagship of Toyota's European model range, the Avensis occupies a pivotal position in building awareness of the Toyota brand as a whole. Since the current model was launched in 2002, it has succeeded in defining the superior quality, refinement and driving pleasure that characterises all new Toyotas.
Its work, however, is not yet done. With the launch of the new 2007 Avensis, Toyota raises the bar in terms of quality and performance in the upper-medium segment. More than that, it also marks the introduction of two new diesel power units to give the Avensis one of the most modern and efficient engine ranges in its class.
NEW 2.0-litre D-4D 130
The previous 2.0-litre D-4D engine is replaced by a new D-4D 130 unit that delivers improvements in every dimension; it is more powerful, offers faster acceleration, is more fuel-efficient, produces lower exhaust emissions and is quieter and smoother.
Developing 124bhp (126 DIN hp) and 300Nm of torque at 2,400rpm, the D-4D 130 gives nought to 62mph acceleration in 10.3 seconds and a 124mph top speed. In combined cycle driving it can return 51.4mpg, with 146g/km of carbon dioxide emissions.
THE AVENSIS T180
The new Avensis also gains the 2.2-litre D-4D 180 engine, featured exclusively in a new top-of-the-range T180 model. This 175bhp (177 DIN hp) unit is the most powerful and cleanest engine in its class. It moves the Avensis from rest to 62mph in 8.6 seconds and on a top speed of 137mph. Combined cycle fuel consumption is 46.3mpg and carbon dioxide emissions are rated at 161g/km.
The engine's clean performance is achieved through Toyota D-CAT (Diesel – Clean Advanced Technology). This system includes Toyota's DPNR four-way catalyst that continuously and simultaneously reduces nitrogen oxides and particulate emissions. As well as being highly efficient, it requires no maintenance.
Befitting its status, the T180 model comes with some select extra features, including smoke-finished 17-inch alloys, smoked glass headlamps and leather and Alcantara upholstery.
The D-4D 180 leads an engine line-up that includes the current 1.8 and 2.0-litre VVT-i petrol units and the 2.2-litre D-4D 150, launched in the Avensis last year.
EXTERIOR AND INTERIOR STYLING
The new Avensis adopts new styling features for a more dynamic look, including a new grille, front bumper and headlamp design, plus new-look rear lamp clusters. The door mirrors have also been changed and fitted with built-in indicator lights. In the cabin quality has been further improved with new upholstery and dashboard trim inserts.
EQUIPMENT UPGRADES
The T2, T3-S, T3-X, T4 and T Spirit grades are carried forward but with some key changes to the equipment specifications. All versions gain the new door mirrors with integrated turn lights and more sophisticated audio system with improved sound reproduction and the ability to play digital music files stored on CD. T3-X models are fitted as standard with dusk-sensing headlights and height adjustment for the front passenger seat, with D-4D models additionally gaining cruise control. Cruise control is now standard on T4 models, too, while T Spirit versions benefit from a new six-disc CD autochanger.
MORE DRIVING PLEASURE
Small but rewarding adjustments have been made to the suspension and steering system to achieve noticeable improvements in ride and handling quality.
Suspension changes include retuned shock absorbers, adjustments to the bushes in the rear suspension and changes in anti-roll bar thickness. The result is less road noise, improved ride comfort and better cornering and braking stability. Body rigidity has also been increased with strategic strengthening of key elements, thus improving suspension control.
The Avensis's efficient aerodynamic performance has been further improved, particularly with regard to the smooth flow of air beneath the car. Detailed revisions reduce the level of wind noise and also contribute to better fuel consumption and vehicle stability.
PRICES AND INSURANCE GROUPS
Prices for the new Avensis range start at £15,515 for the 1.8 VVT-i T2 saloon and hatchback. As with the current generation model, equivalent hatchback and saloon models cost the same, with Tourer estate versions adding an extra £1,000 to the price.
Insurance groups remain the same for the 1.8 and 2.0 VVT-i and 2.2 D-4D 150 engines. Model for model, the new 2.0 D-4D 130 models are also rated the same as the previous 2.0 D-4D range, in spite of being more powerful and better-equipped. The new Avensis T180 has been given a 12E rating. The E designation indicates that the Avensis exceeds the standards set by the British insurance industry, earning the model lower group ratings. The 2007 Avensis range is priced from £15,515 for the 1.8-litre VVT-i T2 up to £23,015 for the T Spirit 2.0-litre VVT-i Tourer with automatic transmission.