Audi A1 awarded 5 stars in Euro NCAP crash test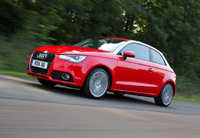 The Euro NCAP consortium tested the passive crash safety of the new Audi A1 and awarded it the top score of five stars. The results for adult protection in a frontal, rear or side collision, as well as for child safety and pedestrian protection, place the new Audi A1 among the safest vehicles in its category.
The passive vehicle safety of the new Audi model in the subcompact class was thoroughly tested by Euro NCAP. The consortium is made up of international representatives of European transport ministries, automobile associations, insurers and consumer protection organizations, and performs comprehensive studies of the crash performance of new cars.
Euro NCAP's demanding test requirements far exceed the standards of European lawmakers. The testers gave the A1 scores for adult occupant protection in frontal, rear and side impact collisions that easily earned the vehicle the top rating of five stars. The very good scores for child occupant protection underscore the excellent results.
Established in 1997, the Euro NCAP consortium performs crash tests with all vehicles on the European market. Its mission is to systematically improve road safety and thus help protect the lives of all road users.
Ensuring protection for pedestrians and cyclists is an important concern for Audi. A vehicle front end specially designed for this requirement helps to mitigate the consequences of a collision, and this is reflected in the good performance of the Audi A1 in the Euro NCAP test.
Audi also places tremendous value on active safety systems for accident avoidance. A standard high-performance ESP stability system with electronic limited slip differential was therefore one of the first items in the requirements specification for the development of the Audi A1. This system is responsible for the A1's high stability and very neutral handling in corners.