Prius goes gumball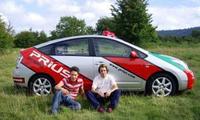 Two Sussex students are hoping to set a record for economy in the inaugural Student Gumball rally which has set out from Dover for Croatia on 3 September.
Ben (20) and Max (18) Constanduros from Heyshott, near Midhurst, are driving a Toyota Prius, the world's leading hybrid car with perfect student economy of around 65 mpg.
They will be part of an entry of 150 teams, 500 students, driving 1500 miles from the UK through Eastern Europe in just six days – although there will be the obligatory party every evening to de-stress!
Gumball rallies have a reputation for excess – excessive speed, fuel consumption, partying and cost. The student event is expected to be a somewhat milder version. Cars are restricted to two litres – less a deafening roar, more a polite wheeze.
"My brother and I are taking part in the rally to highlight the fact that cars can be politically correct and fun," says Ben. "The Toyota Prius is the ultimate hybrid car, and we will be showing the world how versatile and promising the Toyota Prius is. Its low running costs make it ideal for students.
"We've been really impressed after our first run in the car," continues Ben. "It's really different, but fascinating at the same time. It handles really well, it's certainly quick, and it's mega-comfortable too. Can't think of a better way to tackle 1500 miles!"
The brothers' team Prius has been specially liveried to Max's design in Toyota's red and white colours, with a strip of green to highlight its green credentials.
The brothers have been working at various jobs to fund the trip – rather than rely on their student loans! Max has worked as a waiter, while Ben has been working at a television production company, where he has 'voiced' a number of motor sport programmes. He is a regular presenter of Motors TV's Ultimate Kart challenge. The brothers will be making a film of their event, highlighting the Prius's cool image.
Ben, being the older, has the greater driving experience, including five years' kart racing, latterly at national level. Max, however, has limited experience. "I'm just going to go where my brother tells me," he says.
The rally, which supports the Teenage Cancer Trust, starts from Dover on Sunday and heads through France, Belgium and Germany to Cologne for the first stop, home of Toyota's Formula One team. Day two (Monday) sees them head to Prague in the Czech Republic. From there they go to Budapest in Hungary, followed by Zagreb in Croatia. The rally ends with a 24 hour beach party on the Croatian coast.
"Then comes the biggest challenge," says Max. "How to get home!"