New Heritage Collection homes coming soon to Oakdale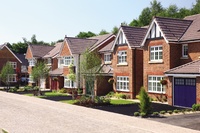 Award-winning housebuilder Redrow is bringing its New Heritage Collection homes to Oakdale, characterised by their traditional external appearance and modern interior specification.
Already well known in the village for its contemporary homes at Sirhowy Gardens as well as its earlier Penrhiw and original Heritage Glan Rhiw ventures, Redrow is hoping for continued success when it launches a brand new development - Glynderwen Meadows – in January.
The new venture will feature 58 three, four, five and six-bedroom family homes from Redrow's The New Heritage Collection, a premium housing product with more than a hint of nostalgia, but boasting a specification to meet the needs of modern lifestyles.
Influenced by the 'Arts and Crafts' era (c1850 – 1915), the new designs grew from the desire to bring back the skill and creativity of the individual craftsman and revive the simplicity and honesty in the way buildings and furnishings were made.
Redrow has deliberately set out to reintroduce a high degree of individuality to the way its homes look and feel.
Debby Pavitt, sales director for Redrow Homes (South Wales), said: "Feedback from the majority of our customers tells us that they want a conventional two-storey home, preferably detached, with an easily accessible garage and a garden of their own. They want something that looks traditional, perhaps evocative of the family home they grew up in, but they want it to have the latest statement-making kitchens, bathrooms and good quality fixtures and fittings.
"In designing this, some of the architectural influences, styles, shapes, colours and textures reflected in the Arts and Crafts movement have been brought right up to date with high-specification interiors styled for modern living."
Some of the external features which typify the Arts and Crafts era - and will be seen in varying degrees on the new Oakdale homes - include dropped eaves, projecting plinths and bay windows, often with leaded lights. Other highlights include timber or tiled canopies over doors and windows and the use of larch lap boarding.
These traditional exteriors hide a contemporary interior specification, featuring convivial open plan living spaces, fashionable kitchen designs with floor to ceiling units, central islands and top brand name appliances, plus bathrooms that are sleek, modern and pleasing to the eye.
Sales are due to launch at the end of January and show homes will open in April. In the meantime, six beautifully furnished show homes can be viewed at nearby Cwm Calon in Ystrad Mynach daily from 10am to 5.30pm.