Bad weather sends U2 to their favourite castle hotel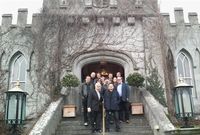 As stories abound of the chaos caused by the extreme weather conditions in the UK and Ireland, it's nice to know that the stars are no different to the rest of us.
Bono and his band of merry men were travelling home to the Emerald Isle for Christmas after U2's five-week tour of Australia when they were told the plane would have to divert to Shannon airport.
The rock star announced that they would land in Shannon only if they could stay at nearby Dromoland Castle – a favourite haunt of celebrities and royals across the globe. The staff at Dromoland quickly prepared for the unexpected arrival and Ireland's most famous band were greeted with home-made shepherd's pie and a warm reception at the idyllic County Clare retreat.
General manager of Dromoland Castle, Mark Nolan said, "It was an unexpected visit but we were absolutely delighted to welcome them. They were the nicest and most appreciative people you could ever meet."
The party also included British bassist Chris Wolstenholme of Muse. The group has been supporting U2 on a number of its worldwide tour dates although whilst Chris headed home, bandmate Matt Bellamy was off to Los Angeles to spend Christmas with Hollywood sweetheart Kate Hudson and her film-star family.
Set amidst 410 acres of rolling country meadows and woodland, Dromoland Castle enjoys a truly majestic setting and boasts 99 individually-styled rooms and suites, elegant wining and dining, a golf course designed by Ron Kirby, a leisure area with pool, sauna and Jacuzzi and the chic Spa at Dromoland with its pampering treatments, hair salon and relaxing outdoor hydro tub.
You can enjoy a taste of rock-star luxury for just £225 per room per night* including full Irish breakfast each morning and a gourmet dinner in the Earl of Thomond restaurant on an evening of your choice. The hotel is within easy reach of Shannon Airport with access from regional airports across the UK. To book visit: dromoland.ie
*Based on Winter Warmer package. 2 night minimum stay at 540 Euros. Rate of exchange may vary. Valid for travel until 30 April 2011.