RoadPilot helps motorists avoid fines for flashing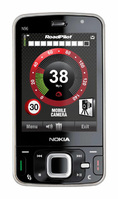 Following news this week that a British driver has been fined for flashing his headlights to warn fellow motorists of a nearby mobile speed camera site, RoadPilot has extended the free trial-period of its speed camera detection application, RoadPilot Mobile.
The application, now available for a wide range of smartphones, includes a real-time alert facility, which enables the user to notify other members of the RoadPilot Mobile user community if they pass a mobile speed camera site. This can be done quickly, easily and legally, and makes headlight-flashed warnings a thing of the past!
RoadPilot Mobile is a GPS speed camera alert application that incorporates the firm's comprehensive database of fixed and mobile speed camera locations. The extension of the trial period means that RoadPilot Mobile is available on a free trial basis to all users who download the application before 28th February 2011.
RoadPilot Mobile alerts users to all upcoming cameras, as well as the road's local speed limit. RoadPilot has one of the most accurate databases available, and its method of data acquisition differs from those of competitors in that it has a dedicated team of surveyors who physically visit each and every fixed camera site.
Consumers can download the RoadPilot Mobile app to the full range of Nokia smartphones, including the firm's latest N8, and also to all current Blackberry devices. The availability of RoadPilot Mobile on a host of other platforms, including Apple's iPhone, will be announced soon.
RoadPilot Mobile is available for download now from the Nokia Ovi store (store.ovi.com/) or Blackberry App World (us.blackberry.com/apps-software/appworld/).
RoadPilot also has one of the biggest global speed camera location databases – covering all habitable continents and stretching from Canberra in Australia to Copenhagen in Denmark, from London in the UK to Louisiana, USA.
For further information, visit roadpilot.com.