New Year 'affordability' finance offers from Suzuki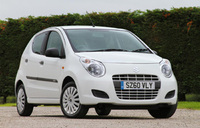 Suzuki has announced the extension of its VAT free offer on Alto SZ3 and SZ4 models which now represents a customer saving of up to £1,423 after the recent rise to 20 per cent, helping customers take advantage of an easier way to buy a new car for the new year.
Additionally, to assist buyers in the 18-35 category as well as those looking for a low deposit and low monthly payment option, Suzuki has introduced further affordability options with low rate PCP (Personal Contract Purchase) schemes on Alto and Swift models. This means that an Alto SZ3 is available for a deposit of just £149 (two per cent) followed by 36 monthly payments of £149 with the option to pay a final balloon payment of £2,742 at the end of the agreement to keep the car.
Over three years, this calculates to a figure of just over £5 per day including interest charges or £7.55 per day including the final balloon payment. Alto is one of the most inexpensive cars to buy and own with Group 1E insurance rating and just £20 per year in VED charges. Fuel consumption is very low, offering 64mpg on the combined cycle and emissions of 103g/km.
Moving up the range and taking a Swift SZ2 three door as an example on Personal Contract purchase; a deposit of £1,900 is all that is required followed by 36 monthly payments of £165 and an optional final payment of £3,626 at the end of the agreement.
Alternatively, if Hire Purchase is the preferred route, the deposit is lower at £1,021 followed by 48 monthly payments of just £214 and a final payment of £379 at the end of the agreement with an APR of 6.5 per cent. All Suzuki dealers operate an online calculator via Suzuki Financial Services which helps buyers choose a flexible repayment scheme to suit their individual budget.
Suzuki's offers also apply to the ever popular 1.6-litre Swift Sport model which is available with 10 per cent deposit Hire Purchase over four years, Zero per cent Hire Purchase with 50 per cent deposit over three years and also on a PCP with 20 per cent deposit, payable over three years.
Suzuki's highly competitive 0% APR three year Hire Purchase finance offers available on Swift, Splash, SX4 and Grand Vitara models will continue until the end of March 2011, all require a 50 per cent deposit.
For more information on the Suzuki product range visit suzuki4.co.uk.