Winter weather drives traffic to subaru.co.uk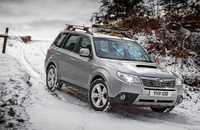 The nation might still be shivering following the coldest December in 110 years, but there is one area of decidedly hot activity – Subaru's official website, subaru.co.uk.
Last month, when Britain was consistently battered by record levels of snowfall, freezing temperatures and atrocious travelling conditions, the number of visitors to the site increased by 57 per cent compared to the same period in 2010, when visitor numbers hit a previous record high. On Monday 20th December, one of the worst days of the cold snap, hits on Subaru.co.uk rocketed by 135%.
Subaru UK Marketing Director, Kenyon Neads, commented: "For the second year in a row, we've seen a direct correlation between wintery chaos on UK roads and people looking to find out more about our sure-footed range. Growing numbers of people understand that in slippery and icy situations there is simply no substitute for our Symmetrical All-Wheel Drive system, and that's why our website has been receiving so many hits."
The Subaru range starts at £17,345 for the 1.5 RC Impreza hatchback and rises to £35,795 for the 3.6R Outback crossover. The new 300PS, 158mph* WRX STI costs £32,995 for both four and five-door models and the last few remaining 400PS Cosworth Impreza STI CS400 are priced at £49,995.