Audi A1 is named What Car? Car of the Year 2011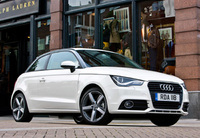 The new Audi A1 scooped the top honour at the prestigious What Car? Awards last night at the Grosvenor House Hotel in London's Park Lane.
The judges were full of admiration for the premium subcompact hatchback, which "comes across as every inch a bespoke premium product" and "oozes quality everywhere you look and from everything you touch – you won't find better at this price."
Steve Fowler, Editor-in-Chief of What Car?, explained: "The Audi A1 is a brilliant car: brilliantly targeted and brilliantly executed. More and more buyers are looking for smaller, more efficient cars, but with all the luxury trappings of much larger cars. That's exactly what Audi has given them – a super-stylish, high quality small car that's affordable and great fun, too."
Peter Schwarzenbauer, Board Member for Marketing and Sales at AUDI AG, accepted the award and said: "Our buyers can have great confidence in the A1 now that it has been voted the best by the respected What Car? experts who we know are exceptionally thorough in their testing. We know this is right up there among the very hardest awards to win from a car title anywhere in the world."
The A1 is "top of the pile in so many ways"
The A1 has also clinched the Best Supermini title for 2011. Having been voted by What Car? readers as the Most Exciting Car of 2010 at last year's awards, the A1 has fulfilled its promise in the eyes of the judges.
Jeremy Hicks, Director of Audi UK said: "It's an incredible honour for the A1 to win three What Car? awards in its debut year. We were naturally thrilled when it won the Most Exciting Car of the Year award in 2010, but for it to win the Supermini category and then the Car of the Year award overall in 2011 is extraordinary."
Prices for the A1 start at £13,420 OTR for the 1.2 TFSI (86PS) SE model, and rise to £18,665 for the 1.4 TFSI (122PS) S line model.
TT makes it five in a row
The TT has topped the Coupe category for the fifth consecutive time at the What Car? Awards. The judges felt that the TT is "better than it has ever been" thanks to its new turbocharged 2.0 TFSI engine, which develops 211PS for exhilarating performance. The panel also praised the TT's handling, commenting that it comes in to its own when cornering: "The strong grip and body control means it changes direction like a housefly, while the responses from the steering, throttle and brakes are razor-sharp. This is a sports car with real finesse."
Prices for the TT start at £27,130 OTR for the 2.0 TFSI (211PS) Sport model.