Subaru Forester wins 'Crossover of the Year' award in Belgium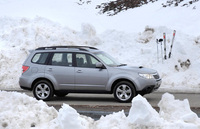 Rounding off a superb year of accolades for Subaru, the Forester has been granted the title of "Crossover of the year 2010" by 4x4 Plus Magazine, the largest such specialist title in Belgium.
The awards – which have been running since 1993 - are decided exclusively by a panel of professional judges with expertise in the specific category of vehicles they assess. The "Crossover" category was added in 2009 in response to changes in the market and to prevent possible confusion with the larger vehicles classified as belonging to the "SUV" category.
The Subaru Forester was awarded the coveted title after the judges reported winning performance in the areas of reduced emissions, efficiency and value for money. The Forester was praised for its safety, handling and functionality. The panel also supported Subaru's core philosophy that permanent all-wheel drive system does offer significant safety benefits, against a strictly marginal fuel consumption increase compared to two-wheel drive vehicles. It pointed out that the fuel consumption difference measured between 4-wheel drive and 2-wheel drive vehicles was by far lower than commonly assumed. The positive cost-benefit ratio - especially when expressed in terms of safety - was also highlighted.